Tradeweb Government Bond Update – August 2020
| Rates
After months of plummeting yields, 10-year government bonds experienced a sell-off in August. Leading the pack was the UK's 10-year Gilt yield, which closed the month 22 basis points higher at 0.31%. The country's economy entered its deepest recession on record, as gross domestic product plunged by 20.4% in the second quarter of 2020, the steepest fall in Europe. At its August 6 meeting, the Bank of England voted unanimously to leave the key bank rate at a record low of 0.1% and the size of its asset purchases at GBP 745 billion.
Germany's 10-year Bund mid-yield also trended higher throughout the month, rising by 13.5 basis points to close at -0.40%. According to the Federal Statistical Office (Destatis), GDP fell by 9.7% in Q2 2020, the deepest contraction since quarterly GDP calculations for Germany started in 1970. Consumer prices were expected to remain unchanged year-on-year in August.
Elsewhere in the euro area, the yield on Finland's 10-year benchmark note saw the largest increase of 16.5 basis points, ending the month at -0.20%. Data from Statistics Finland showed that the country's economy dropped by 4.5% from the previous quarter, the lowest Q2 decline in the euro area, where GDP was estimated to be down by 12.1%.
In the U.S., the 10-year Treasury mid-yield climbed nearly 16 basis points to finish August at 0.69%. U.S. GDP contracted by 9.5% between April and June, the largest quarterly fall on record. Nonfarm payroll employment increased by 1.371 million during the month, while the jobless rate decreased to 8.4% from 10.2% in July. The U.S. Federal Reserve announced a change in its inflation strategy with an average target of 2%.
Japan's longest-serving prime minister in history, Shinzo Abe, resigned on August 28, citing health reasons. He will remain in office, however, until the parliament chooses his successor. The Japanese 10-year government bond yield rose by 3 basis points to close the month at 0.04%. Its Australian counterpart ended August nearly 14 basis points higher at 0.98%. The country's economy shrank 7% in Q2 2020, the second consecutive quarterly decline following a 0.3% drop in the previous three months.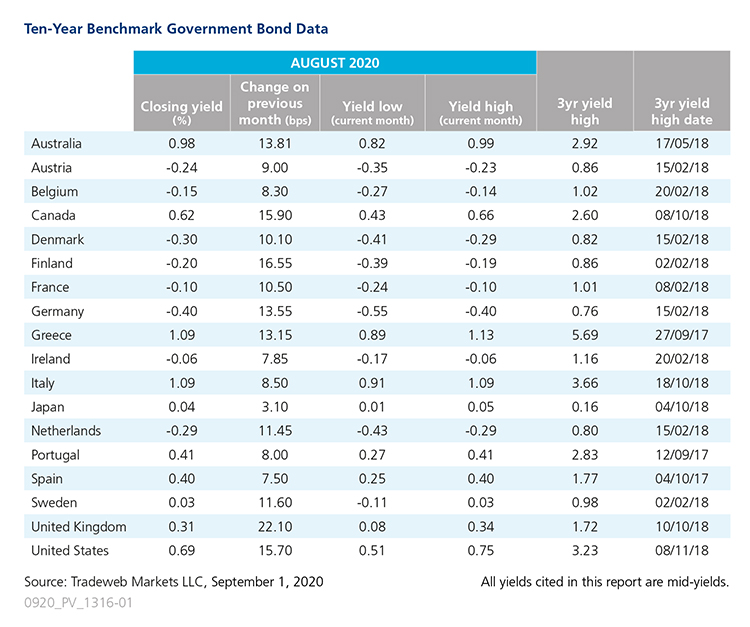 Related Content

[Blog] July Government Bond Update

[Blog] June Goverment Bond Update