Tradeweb has operated its multilateral trading facility (MTF) since 2007. It has been regulated by the FCA since its inception, and by the AFM since 2019. After Brexit, our MTFs will together continue to serve our clients in the EU and UK alike.
Under MiFID II, the regulatory regime for MTFs was aligned with that of regulated markets (RMs). For all trades conducted on our platform, Tradeweb satisfies the relevant pre- and post-trade reporting obligations under MiFID II and MiFIR, including the onshored UK provisions. For non-investment firms, we perform regulatory transaction reporting and offer an APA reporting service for trades executed off-venue.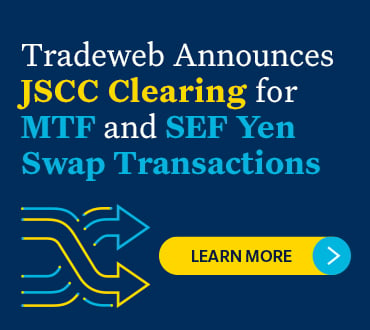 Reporting obligations generally apply to transactions in financial instruments across asset classes and formats concluded on venue or over-the-counter (OTC). The requirements directly apply to relevant firms in the UK, the European Economic Area and to those active on UK or EU regulated trading venues such as the Tradeweb MTF.
Tradeweb's EU MTF is 'passported' under MiFID II and is available throughout the European Economic Area (EEA). Tradeweb's UK MTF is licensed by the FCA and is available in the UK and selected EU countries.
Reporting solutions and services
Tradeweb continues to help clients adhere to (MiFID II) reporting requirements; our solutions encompass all pre-trade, execution and post-trade obligations.
Learn more about our full suite of reporting solutions here.
For more information, please contact your Tradeweb representative or email europe.clientservices@tradeweb.com.
Transparency Reporting
To access our on-venue reporting, please follow these links (in Chrome):
Transparency waivers and deferrals applied on the Tradeweb MTF's and OTF's
MiFIR, and the relevant onshored UK provisions, require trading venues to make public information about bids, offers and completed trades. These obligations can be waived or publication deferred in certain circumstances, as permitted by the legislation and where the venue's competent authority has given its approval. As set out in our MTF and OTF Rulebooks (Rules 5.12 and 5.13 of MTF Rulebook and 5.19 and 5.20 of the OTF Rulebook), Tradeweb has received approval from the FCA and the AFM to use a number of waivers and deferrals. We describe in this document how these apply when trading on the Tradeweb MTF or OTF. The waivers and deferrals are available for qualifying transactions in single instruments and packages. Any changes to waivers and deferrals that Tradeweb might apply to transactions on the MTF and OTF from time to time will be updated on the document.
Packages offered on the Tradeweb MTF: Meffroc Requirement
MiFIR Article 2(1)(50) defines a "package transaction" with prong (ii) requiring that "each component of the transaction bears meaningful economic or financial risk related to all the other components". ESMA, in its Q&As on Transparency topics, Chapter 4 Question 4 (a) defines this requirement as "mefrroc" and clarifies that it expects "trading venues … to document how the mefrroc requirement is met, either in contract specifications for packages traded on trading venues or on a package-by-package basis in case of OTC-transactions."
Tradeweb offers a number of "packages" on its MTF as specified below and updated from time to time. All of the listed packages consist of components that bear a meaningful risk in relation to all other components and, on that basis, satisfy the above described mefrroc requirement. Packages of two, three or more components are executed contingently, priced as a unit and quoted with a single price for the entire package. Users of the Tradeweb MTF are unable to add instruments to a package without having an impact on the quoted price. Where a package consists of several instruments (LIST trading) neither the RFQ requester nor the executing liquidity provider is able to execute a limited amount of package components ("all-or-nothing").

Bonds
Interest Rate Derivatives
Credit Derivatives
Equity Derivatives

Switches

Barbells

Crosses

TAC Lists

Contingent Lists

Curve Spreads

Butterflies

Invoice Spreads

TRSY Spreads

TRSY Spread Switches

Rolls

Asset Swaps

EUR Basis Swaps

Compression Lists

Rolls

Curves

Switches

Call Spreads

Put Spreads

Collars

Bullish Risk Reversals

Straddles

Strangles

Call Spread Collars

Put Spread Collars

Calendar Call Spreads

Calendar Put Spreads

Call Butterflies

Put Butterflies

Baskets (contingent lists)