How CIBM Direct Link Connects you to the China Bond Market
As we continue to explore ways for overseas investors to connect to the Chinese onshore bond market – the second largest in the world – Tradeweb was the first trading platform to offer electronic request-for-quote (RFQ) trading to the access channel known as China Interbank Bond Market (CIBM) Direct.

How does CIBM Direct Link Increase Access, Connectivity & Transparency?
Account opening, trading and settlement conducted in the onshore market
Disclosed request-for-quote (RFQ) protocol now fully electronic
Access to CIBM market makers and participants
Benefit from greater connectivity, efficiency and transparency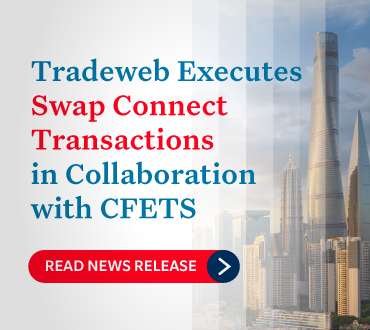 What are the Benefits of Tradeweb's Fully Electronic RFQ workflow?
Improved liquidity and executable size
Block allocation
List trading
Pre-trade data
Best Execution
Straight-through-processing
Reduced operational risk
OMS integration
As we continue to drive the evolution of electronic trading across our core emerging markets regions – Asia Pacific (APAC), Central & Eastern Europe, Middle East & Africa (CEEMEA), and Latin America (LATAM) – we're committed to developing and implementing new and enhanced technology to make trading global markets more efficient and transparent.
As offshore investor's interest in China's onshore bond market has grown over the past few years, so has their need for risk management tools. Tradeweb's growing list of China Access Channels provide seamless and efficient electronic links between global market participants and China's onshore community.
To find out how Tradeweb can support your China onshore bond trading strategy, get in touch here.
Products

All eligible Chinese Interbank Bond Market (CIBM) instruments – including Chinese government bonds, local government bonds, policy bank bonds, certificates of deposit, commercial paper, corporate bonds, ABS

Pre-Trade
At-Trade
Post Trade

Block Allocations

Indicative Streams

Pre-Trade Integration

Protocols

Request for Quote (RFQ)

List Trading



Advanced Trade Tools

Automated Intelligent Trading (AiEX)






Systematic Post-Trade Reporting to CFETS

Audit Trail/Compliance Records

STP to Client OMS

Asia
Open 9:00 am - 12:00 pm China Standard time
Open 1:30 pm - 8:00 pm China Standard time