Creating Regulatory Solutions
Markets are demanding. Regulations change. Products evolve. That's where we come in.
Clients are looking for a more integrated, holistic approach to their business and are seeking ways to reduce operational risk and increase efficiency.
As an industry leading electronic trading platform that operates regulated markets globally to more than 2,500 market participants, we understand the need for interoperability and work with other systems to provide an unsurpassed end-to-end solution. We don't build distractions or unnecessary features, just more effective ways to trade.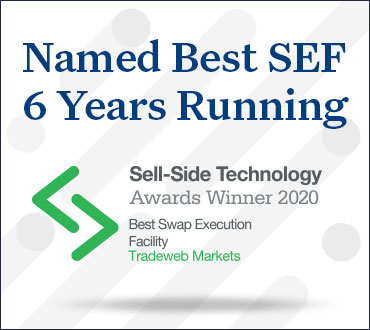 Our U.S. Regulated Entities:
Tradeweb LLC
Tradeweb Direct
Dealerweb Inc.
TW SEF LLC
DW SEF LLC

CFTC registered SEF


Exempt Foreign Trading Venue (Switzerland)


Exempt Trading Venue (Ontario, Alberta, Quebec)


Exempt Venue [Application for Overseas Market License pending] (Australia)

CFTC registered SEF


Exempt Foreign Trading Venue (Switzerland)


Exempt Trading Venue (Ontario)
Our International Regulated Entities:
Tradeweb Europe Limited
Tradeweb Europe Limited (Hong Kong Branch)
Tradeweb Europe Limited (Singapore Branch)
Tradeweb Japan K.K.
Tradeweb EU BV

Authorized and regulated by the Financial Conduct Authority (FCA) as a MiFID Investment Firm with permissions to operate a:
Offshore electronic trading platform recognized by the People's Bank of China (PBOC) for the provision of Bond Connect


Australian Market Licence granted by the Australian Securities & Investments Commission (ASIC)


Member of NFA

Regulated by the Financial Services Agency of Japan (JFSA) and granted a Propietary Trading System (PTS) operator license and a notified Electronic Trading Platform (ETP) operator for IRS intermediary business; also a Member of Japan Securities Dealers Association (JSDA).

Authorized and regulated by the Dutch Authority for the Financial Markets (AFM) as a MiFID Investment Firm with permissions to operate: