Building Better Efficiencies: How Tradeweb Connects Local Bond and Currency Markets
Tradeweb has collaborated with FXall – London Stock Exchange Group's electronic platform for global currency products – to link trading workflows in emerging markets local currency bonds and FX currency swaps via a single user interface (UI). This efficient and unique workflow solution will allow investors to hedge their currency risks in local currency bonds.

This new FX Swap Workflow solution helps institutional investors trade emerging markets products more efficiently, offering traders:
Better real-time pricing transparency
The ability for multi-asset trade execution
Access via a single user interface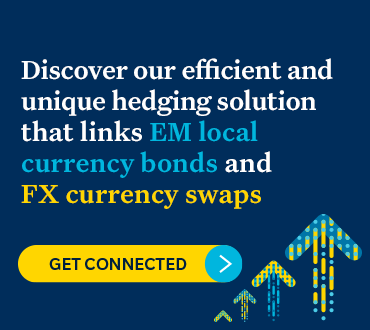 Key Benefits:
An enhanced multi-asset integrated workflow that helps streamline workflows split across different trading desks
Connecting Tradeweb's EM bond marketplace with FXall's liquidity pool
Easily accessed via a single UI on the Tradeweb EM global bond platform
Seamless execution and Straight-Through-Processing
Greater automation and time-saving efficiencies
Helping to achieve better real-time transparency and to prove best execution


An Efficient & Versatile Workflow
This new digitalized multi-asset integrated workflow will help to enhance efficiencies by replacing the existing voice-based set-up. It will also help to streamline workflows split across different trading desks – for example fixed income vs FX execution desks.


Find Out More
Please contact us here to learn more.