DEALERWEB: Wholesale Market

Whether you trade electronically, over the phone, or use a hybrid approach, you can rely on Dealerweb to get the liquidity you need through our highly efficient wholesale market.

Flexible, Customized Trading
Dealerweb is a comprehensive and highly effective solution in the search for fixed income liquidity. As an SEC-registered alternative trading system (ATS), we act as an interdealer broker (IDB) between many of the world's largest commercial and investment banks and principal trading firms (PTFs), facilitating trades between buyers and sellers on electronic, hybrid and voice platforms.
Key Features: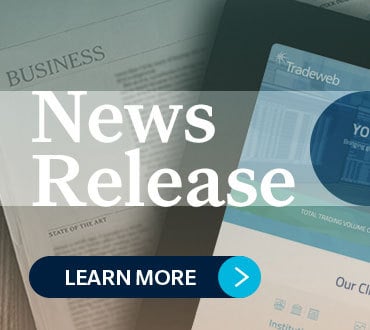 How We Got Here
Tradeweb entered the wholesale marketplace in 2008 with the acquisition of Hilliard Farber & Co. Inc. In 2009, Dealerweb launched with electronic trading of TBA-MBS. It further expanded its brokerage assets in 2011 into U.S. Treasuries and Municipal Bonds with the acquisition of Rafferty Capital Markets LLC, which included its J.J. Kenny Drake division.

Today Dealerweb spans a broad range of products including: TBA-MBS, U.S. Treasuries, U.S. Agencies, European Government Bonds, CMOs, CMBS, CDOs, Repo, ABS, ARMs, Specified Pools, IRS, ETF/Delta One, U.S. Credit, European Credit, SSAs/Covered Bonds, Asian/EM Credit and Municipal Bonds.
Dealerweb Sweep
Sweep, our session-based trading platform, enables participants to manage inventory and balance sheets easily filling the gap between voice and fully electronic order book trading. With 25+ Sweep sessions occurring weekly across 10 products globally, Sweep is one of our fastest growing dealer-to-dealer businesses.
Dealerweb Treasury Actives Direct Streams
Dealerweb is enhancing the way market participants trade on-the-run U.S. Treasuries with bespoke directed liquidity. Our platform allows both liquidity consumers and providers to create data-driven, customized trading relationships that result in superior execution quality and better price discovery.
Key Features:
Acts as matched principal to every transaction
Connectivity with top ISV providers and clearing corporations
Multiple pools of liquidity available on a single platform - eliminating need for numerous one-off connections and reducing operational risk


Fast, Reliable Execution
Leveraging both industry-standard and proprietary trading protocols and tools, our technology services users across electronic, voice and hybrid trades to deliver greater operational efficiency and improved access to liquidity. Gain access to real-time, best bid and offer prices for a range of products for interactive and simultaneous trading with multiple dealers.
Markets

U.S. Repo, MBS (TBAs), ETFs, Bills, U.S. Treasury Actives, Interest Rate Swaps, U.S. Treasury (Off-The-Run, FRNs, TIPS), Corporate Bonds (U.S., Europe, Asia), European Government Bonds, Emerging Markets, SSA and Covered Bonds

Trade Lifecycle

Pre-Trade
At-Trade
Post-Trade

Axes

Inventory

Streams

Protocols

CLOB

Workup

Sweep

Trade Types

Single Item

BOM

Trade Tools

APIs

Drop Copy

Trading Hours

| | | |
| --- | --- | --- |
| Americas | Europe | Asia |
| 7:00 am New York time open | 8:00 am London time open | 8:30 am Tokyo time open |
| 5:30 pm New York time close | 5:00 pm London time close | 6:30 pm Tokyo time close |
Markets

U.S. Agencies, ABS, ARMS, CMBS, CMOs, MBS (TBAs), Specified Pools, Municipal Bonds, U.S. Repo, U.S. Treasury Off-The-Run, Bills and Interest Rate Swaps

Trade Lifecycle

Pre-Trade
At-Trade

Axes

Inventory

Protocols

Process Trade

Trade Types

Single Item

Trading Hours

| | | |
| --- | --- | --- |
| Americas | Europe | Asia |
| 7:00 am New York time open | 8:00 am London time open | 8:30 am Tokyo time open |
| 5:30 pm New York time close | 5:00 pm London time close | 6:30 pm Tokyo time close |
Markets

Interest Rate Swaps, Bills, U.S. Treasury Off-The-Run and U.S. Treasury FRN

Trade Lifecycle

Pre-Trade
At-Trade
Post-Trade

Axes

Inventory

Streams

Protocols

Process Trade

CLOB

Workup

Trade Types

Single Item

BOM

Trade Tools

APIs

Drop Copy

Trading Hours

| | | |
| --- | --- | --- |
| Americas | Europe | Asia |
| 7:00 am New York time open | 8:00 am London time open | 8:30 am Tokyo time open |
| 5:30 pm New York time close | 5:00 pm London time close | 6:30 pm Tokyo time close |