End-of-Day Euro Bond Reference Prices

Tradeweb and FTSE Russell are the providers of benchmark end-of-day pricing for Euro-denominated government bonds issued by Austria, Belgium, Finland, European Union, France, Germany, Greece, Ireland, Italy, Netherlands, Portugal and Spain calculated in accordance with IOSCO principles and EU Benchmark Regulation.
Tradeweb is the Calculation Agent and FTSE Russell is the Benchmark Administrator for Tradeweb FTSE Euro Government Bond Closing Prices. Tradeweb calculates the closing prices based on data from its dealer-to-client trading platform.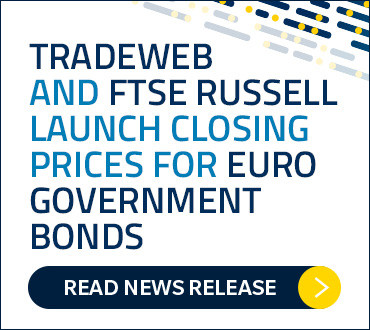 Tradeweb FTSE Euro Government Bond Closing Prices follow the same robust calculation methodology as Tradeweb's well-established UK Benchmark Regulation prices for UK Gilts, which are produced in accordance with the IOSCO Principles for Financial Benchmarks. Trusted reference price data is critical for financial firms to manage investment portfolios, evaluate the fair value of securities, perform compliance and satisfy general accounting standards.
If you would like further information please contact Tradeweb on ECS@Tradeweb.com or 020 7776 3200.
Methodology
Click here to download a guide to the calculation of Tradeweb FTSE EuroGov Closing Prices.