Tradeweb Exchange-Traded Funds Update – January 2023
| Equities
The following data is derived from trading activity on the Tradeweb Markets institutional European- and U.S.-listed ETF platforms.
EUROPEAN-LISTED ETFs

Total traded volume
Trading activity on the Tradeweb European ETF marketplace reached EUR 57.9 billion in January, while the proportion of transactions processed via Tradeweb's Automated Intelligent Execution (AiEX) tool was 82%.
Adam Gould, head of equities at Tradeweb, said: "It was a strong start to 2023 for our institutional ETF trading platform in Europe. Automated trading via AiEX continues to resonate with clients, as it enables them to capitalize on strategic trading opportunities and streamline their workflow."
Volume breakdown
Equity and fixed income ETFs saw net buying in January, with 'buys' surpassing 'sells' by 10 and 20 percentage points, respectively. In contrast, 'buys' in commodity-based ETFs lagged 'sells' by 16 percentage points. North America Equities proved to be the month's most heavily-traded ETF category with nearly EUR 12 billion in total traded volume.


Top ten by traded notional volume

There were two products offering investment exposure to precious metals in January's top ten list, with the iShares Physical Gold ETC moving up eight places from December to be ranked first.

U.S.-LISTED ETFs


Total traded volume
Total consolidated U.S. ETF notional value traded in January 2023 amounted to a record USD 64.7 billion, slightly up on the platform's previous best performance of USD 64.4 billion in October 2022.
Volume breakdown
As a percentage of total notional value, equities accounted for 55% and fixed income for 37%, with the remainder comprising commodity and specialty ETFs.



Adam Gould, head of equities at Tradeweb, said: "The new volume record in January highlights the efficiency of request-for-quote (RFQ) trading for ETFs. Even during volatile conditions, traders use our platform to achieve competitive pricing and operational efficiencies, with the added benefits of best execution and transaction cost analysis."

Top ten by traded notional volume
There was an equal split between equity and fixed income products in January's top ten by traded notional volume list. The J.P.Morgan BetaBuilders Europe ETF claimed the top spot after last appearing in the list in August 2022.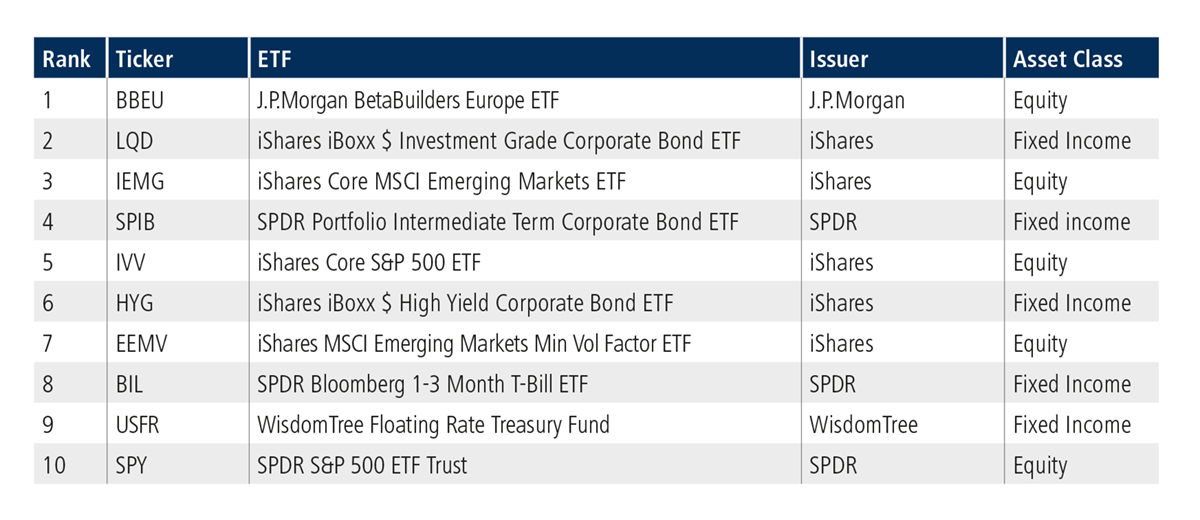 Related Content:
Tradeweb Launches iNAV Calculation Service