Exchange-Traded Funds Update - January 2016
| Tradeweb
The following data is derived from trading activity on the Tradeweb European-listed ETF platform.
ETF total traded volume
Against a backdrop of collapsing commodity prices and soft economic data out of China, the Tradeweb European-listed ETF platform performed well during the month, with steady "hit rates" and total traded volume just shy of €11 billion.
January also saw the launch of the Tradeweb U.S.-listed ETF marketplace, currently supported by 11 liquidity providers. The platform offers institutional investors a new level of transparency, flexibility and efficiency in the way they trade U.S.-listed ETFs.
Volume by ETF asset class
In January, "buys" for fixed income ETFs surpassed "sells" by three percentage points. In contrast, equity-based ETFs saw net selling with "sells" outstripping "buys" by 11 percentage points. Overall trading activity in the asset class beat the 12-month rolling average by eight percentage points.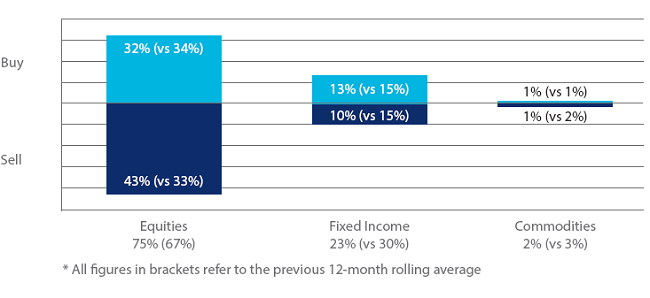 Top ten ETFs by traded volume
There were three currency-hedged ETFs among January's ten most heavily-traded products, including two funds tracking the MSCI Japan index. However, the top spot was held by the Amundi ETF MSCI World UCITS ETF-EUR, a fund offering exposure to global large-cap equities.