Data Points: Government Bond Update - October 2013
| Tradeweb
Key Points:
Treasury Bills volatile as U.S. avoids default
Greek yields fall to pre-crisis levels
Yields on U.S. short-term debt saw significant volatility in the month of October, with yields on the one month Bill climbing to levels not seen in over three years. As a legislative stalemate in the U.S. Congress delayed approval of the federal budget and the extension of the debt ceiling until October 16, the mid-yield for the 1-year bill climbed 26 basis points from 0.07% on October 1 to 0.33% on the 15th. However, yields quickly dropped back down to 0.02% by October 17 as a deal was reached to prevent a default on U.S. debt payments. The mid-yield on the 1-month bill remained relatively stable through the rest of the month, closing on October 31 at 0.03%.

Meanwhile, in Europe, peripheral bond yields continued a downward trend in October while the global financial community focused on the U.S. government negotiations. Most notably, yields on Greek bonds improved to levels not seen since 2010. The 10Y mid-yield fell by 118 basis points to close the month at 8.04%, the lowest level since June 2, 2010 when the bond closed at 8.01%. This represents an enormous recovery in the period after the Greek bond exchange became effective on March 12, 2012, as, after reaching at 29.69% on June 1, 2012, the mid-yield on the 10-year Greek bond fell by 2,165 basis points.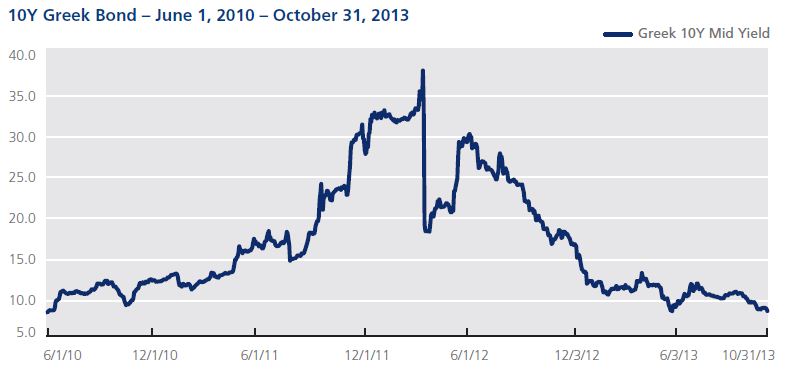 As for the core Eurozone countries, yields for German, French and U.K. bonds followed a similar, yet less amplified trajectory in October as U.S. debt. 10-year yields on all three countries reached intra-month highs on October 16, but all closed the month several basis points lower than what they yielded on October 1:

Yields on Greek bonds improved to levels not seen since 2010.