Challenging Bias by Embracing Opportunity and Diversity
| Tradeweb Markets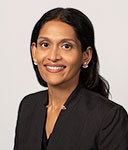 Devi Shanmugham
Global Head of Compliance, Tradeweb
The theme for International Women's Day this year, which was officially celebrated earlier this week, is #BreakTheBias. To commemorate this day, Tradeweb's Global Women's Network hosted a panel for employees that featured senior women across the firm discussing what #BreakTheBias means to each of them. I was delighted to join this discussion and share my own experiences with our colleagues. It is so important to host these conversations because dialogue encourages others to advocate for change.
#BreakTheBias is meant to encourage advocacy for a more equal society that is diverse, equitable and inclusive. This theme resonates with me personally. My own journey is a study in contrast, from growing up as a young Asian American woman in a central Florida community that lacked diversity, to raising my children in New York, where diversity is not only valued but celebrated. I've experienced firsthand how difficult it can be to call out biases in homogenous environments, and this experience has led me to champion and embrace diverse perspectives wherever possible. That's why it's important to encourage inclusivity -- across every city, community, school and workplace -- so that people everywhere can have their voices heard and diverse views can be discussed as we tackle significant challenges.
New York, New Opportunities
I moved to New York when I was 21 and I was instantly struck by the network of opportunities that surrounded me. NYC gave me the opportunity to meet people from all walks of life, across different social, economic and ethnic backgrounds, and allowed me to grow both professionally and personally through these interactions. I was excited to work alongside diverse groups of people who shared a similar appreciation for diversity, camaraderie and solidarity. This sense of acceptance proved to be highly impactful in my career growth and trajectory.
When I began my career, I was immediately inspired by the diverse women around me who were taking on executive roles in both law and financial markets. These women served as my role models, and showed me that change is possible in various business environments. I looked to these ambitious, driven women as leaders – inspiring and empowering women everywhere to challenge the bias around them through actionable change. Their representation in the executive suite allowed me to visualize myself in their shoes, which ended up being a crucial part of my professional growth.
Opening Up the Conversation
I experienced firsthand how important it is for women everywhere – whether young or senior in their career – to have other diverse women around them to look up to and learn from. I was fortunate enough to grow my career in an environment where I felt supported and heard, and I do not take this for granted. In order to progress we must ensure that people everywhere, irrespective of their background, gender, sexuality or ethnicity, have the tools and resources they need to advance.
I joined Tradeweb in 2021 during the global pandemic, a time when meeting coworkers meant having "virtual" coffee meet ups and new joiner onboarding sessions were held through one-on-one Zoom meetings. Regardless, I was excited about my new role at Tradeweb because, even through the virtual coffee chats and meetings, I quickly felt that same sense of togetherness and solidarity that I had experienced earlier in my career.
Tradeweb prides itself on its culture, providing resources and programs to help employees develop professionally while celebrating our differences and shared values. Tradeweb's Global Women's Network, for example, offers employees across the globe access and support to various opportunities at Tradeweb. The network hosts both internal and external events addressing a variety of topics, encouraging us to push the discussion of diversity forward and develop actionable strategies to promote equality, inclusion and collective problem solving. I am a proud member of our Global Women's Network, and look forward to participating in more discussions about the importance of diversity in the workplace with a broad range of colleagues.
My goal is to push the conversation further so that the importance of diversity and inclusion is continuously considered as we tackle the challenges ahead. By fostering a culture of inclusiveness, we can cultivate a community that appreciates and benefits from different perspectives, encouraging all of us to collaborate and learn from one another to produce more meaningful and sustainable solutions.


Related Content
Reflecting on our involvement with the LPGA: Recognizing the women driving change