Breaking down barriers across industries
| Tradeweb Markets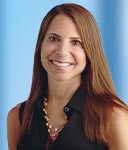 Erica Barrett
Managing Director, U.S. Institutional Rates, Tradeweb
This week, Tradeweb is partnering with the Ladies Professional Golf Association (LPGA) to sponsor the LPGA Cognizant Founders Cup as an Official Brand Ambassador, and we're excited to partner with the LPGA on this event for a number of reasons. Over their 70+ year history, the LPGA has been instrumental in ensuring women have a voice within golf and sports more broadly, and at Tradeweb we aim for a similar goal; to create equal opportunities for women and to drive change within our industry.
This objective holds true across our entire organization – from our most senior to most junior employees. And while she may not be able to dominate the golf course like the women of the LPGA, Erica Barrett has become a pro at dominating the financial industry over the course of her career. As one of the first women employees at Tradeweb and with more than 27 years of experience in financial markets, Erica has broken down barriers of her own on her path to achievement and knows what it takes for a woman to become successful in this industry.
A force for good
Erica entered the financial industry her first year out of college during a time when there were very few women working in the industry and even fewer who held senior management positions. Ever since then, Erica has continued to partner closely with senior management to raise awareness around women's issues in the workplace and in the industry more broadly. She has gained invaluable insights from these experiences, many of which she is now able to share with other professionals who are looking to grow their career.
Erica began her career at Tradeweb in 2000 as a Vice President, Product Manager for Tradeweb's money market business and in time, became the first woman on the company's Operating Committee. Today, she is Managing Director, U.S. Institutional Rates, where she oversees Tradeweb's commercial relationships with its largest dealers, structuring multi-year agreements, across regions, products and platforms with the world's largest investment banks. Over her 21-year career at Tradeweb, Erica has continued to seek out new ways to elevate women in the industry through leading and participating in mentorship and networking committees that are designed to cultivate a culture of equality.
As an active member of the Women in Finance Advisory Board, a charter member and co-head of Tradeweb's Global Women's Network and member of the Women's Bond Club industry association, Erica is deeply interested in programs designed to provide opportunities for women to excel in finance. Her involvement with these organizations has given her the chance to connect with and mentor young and senior women professionals who are on their own path to success. Similar to the mission of the LPGA, Tradeweb and its employees strive to cultivate a culture that encourages women to pursue their goals.
It takes team effort
Erica's experience illustrates the important role companies and organizations can play in empowering their employees and furthering women's achievement. With Tradeweb's support, Erica and her colleagues were able to foster and grow a community of strong women within the organization that today continues to have an impact on the functions and processes of the company.
Similar to the ongoing work the LPGA does in creating opportunities for women in golf, since its founding, Tradeweb has made it a priority to enable employees like Erica to drive change within the organization and broader industry.


Related Content