Tradeweb Government Bond Update – April 2023
| Rates
Most government bond markets experienced a sell-off in April, particularly in the UK, where 10-year Gilt mid-yields climbed nearly 20 basis points to end the month at 3.72%. Since the Bank of England's monetary policy meeting in March, economists have been mixed on their projections for future moves, with some predicting the bank rate would climb to as high as 5%. Meanwhile, others have suggested UK inflation would trend down in the near future, obviating the need for future rate increases. Data from the Office for National Statistics published on April 19 showed that the Consumer Prices Index (CPI) rose by 10.1% in the 12 months to March 2023, down from 10.4% in February.
In line with market expectations, Sweden's central bank, Riksbank, decided to raise its policy rate by 50 basis points to 3% on April 26, and said it would probably increase it further by 25 basis points in June or September. According to data from the National Institute of Economic Research, the consumer confidence indicator rose to 65.1 in April, up from 63.8 in March. Yields on the Swedish 10-year government bond ended April 10 basis points higher at 2.32%, making it the month's second biggest mover.
Among the countries in the Euro area, France saw the largest uptick with the yield on its 10-year benchmark note logging an increase of over 8 basis points to 2.89%. In mid-April, the Bank of France raised its estimate for Q1 2023 GDP growth to 0.2%, up from 0.1%. In neighboring Italy, 10-year government bond yields climbed 7 basis points to finish the month at 4.19%. Both S&P and Moody's affirmed their ratings of the country at BBB and Baa3, although Moody's warned it could lose its current investment-grade status. Italy's economy returned to growth with an increase of 0.5% in the first quarter of the year.
Germany's economy, the continent's largest, stagnated in Q1 2023, with its GDP unchanged on quarter-over-quarter basis. The 10-year Bund mid-yield rose by 1.5 basis point to 2.32%. In contrast, both its Irish and Greek equivalents fell in April by more than 3 and 8 basis points to 2.75% and 4.07%, respectively. The Euro area annual inflation rate was 6.9% in March compared to 8.5% in February, but core inflation increased slightly to 7.5% from 7.4%.
Across the Atlantic, U.S. GDP growth came in at an annualized 1.1% in the first quarter, while the ISM Manufacturing PMI rose to 47.1 in April, up from 46.3 in March. The U.S. 10-year Treasury yield dropped nearly 4 basis points to end the month at 3.45%. Similarly, its Canadian counterpart declined nearly 6 basis points to 2.84%. On April 12, the Bank of Canada held its target for the overnight rate at 4.5%, and said it would continue its policy of quantitative tightening.
At its end-of-month meeting, the first under new Governor Kazuo Ueda, the Bank of Japan (BOJ) left its monetary policy unchanged, but decided it would stop issuing forward guidance and announced a comprehensive review. Many believe this is the central bank's first step towards moving away from its ultra-accommodative monetary policy. The Japanese 10-year bond yield increased by over 7 basis points to 0.39%, below the 0.5% band set as part of the BOJ's yield curve control policy.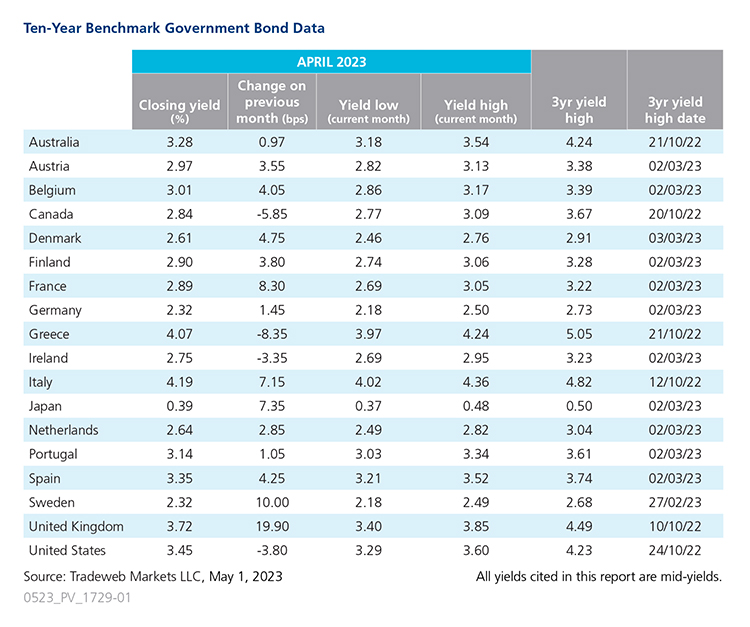 Related Content