Tradeweb Exchange-Traded Funds Update – October 2021
| Equities
The following data is derived from trading activity on the Tradeweb Markets institutional European- and U.S.-listed ETF platforms.


EUROPEAN-LISTED ETFs
Total traded volume
More than EUR 39 billion was executed on the Tradeweb European-listed ETF marketplace during October, while the proportion of transactions completed via Tradeweb's Automated Intelligent Execution (AiEX) tool rose to 76.5%.

Adam Gould, head of equities at Tradeweb, said: "AiEX adoption broke another record in October, as the notional volume executed in European ETFs via the solution accounted for 18% of the total platform flow. Securing the necessary scale to trade ETFs time- and cost-effectively is paramount for clients, so they have been increasing both the number and the size of trades processed via AiEX over time."

Volume breakdown
Commodity-based ETFs saw net selling for the third consecutive month, while activity in the asset class increased to 7% of the overall traded volume. In contrast, equity and fixed income ETFs were mostly bought, with 'buys' exceeding 'sells' by 16 and two percentage points, respectively. More than half of October's total platform flow was executed in North America, Global and Europe Equities ETFs, with all three categories seeing net buying during the month.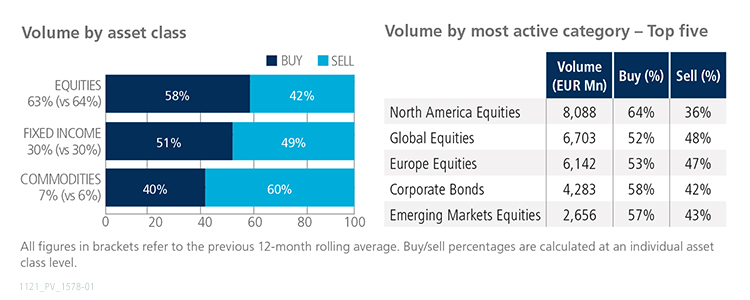 Top ten by traded notional volume
There were six fixed income ETFs among October's top ten by traded notional volume. Commodity and stocks-based products shared the remaining four spots, with the iShares Core S&P 500 UCITS ETF ranked first for the third month in a row. In fourth place, the Deka MSCI USA Climate Change ESG UCITS EUR ETF tracks an index integrating ESG criteria, tilting the constituents' weights according to their carbon emission profile.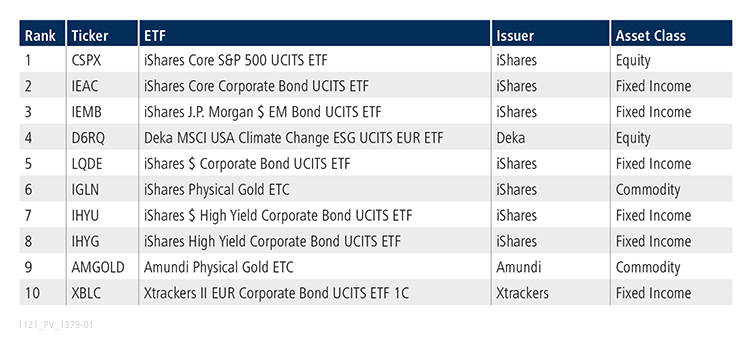 U.S.-LISTED ETFs
Total traded volume
Total consolidated U.S. ETF notional value traded in October 2021 reached USD 28.9 billion, the platform's second best performance on record.

Volume breakdown
As a percentage of total notional value, equities accounted for 62% and fixed income for 34%, with the remainder comprising commodity and specialty ETFs.




Adam Gould, head of equities at Tradeweb, said: "Our U.S. ETF volumes were up 68% year over year, as we continue to onboard new clients and roll out new functionality. We recently increased the number of ETFs a customer can trade within one list from 10 to 20. As buy-side traders are asked to do more with less, and additional ETFs hit the market, we think this functionality will improve client workflow and positively impact platform volumes."

Top ten by traded notional volume
During the month, a record 1,505 unique tickers traded on the Tradeweb U.S. ETF platform. There were four equity funds among October's most heavily-traded ETFs. In first place, the iShares Core MSCI Emerging Markets ETF last featured in the top ten list in November 2020.