Data Points - ETF Update - December 2018
| Equities
The following data is derived from trading activity on the Tradeweb Markets institutional European- and U.S.-listed ETF platforms.


EUROPEAN-LISTED ETFs


Total traded volume
December proved to be the second best-performing month for the Tradeweb European ETF marketplace since its launch in late 2012, with total traded volume topping EUR 24 billion. In addition, the platform enjoyed a record-breaking fourth quarter, as trading activity surpassed EUR 72.4 billion, beating previous record-holder Q1 2018 by more than EUR 10 billion. The share of European ETF transactions processed via Tradeweb's Automated Intelligent Execution functionality (AiEX) remained high at 42.6%.
Adriano Pace, head of equities (Europe) at Tradeweb, said: "Traded volumes on our European ETF platform surged in 2018 thanks to a confluence of factors including the advent of MiFID II, heightened market volatility, and the increased adoption of electronic trading. At the end of December, total activity for the year had reached EUR 251.5 billion, up 52% from 2017 and 89% from 2016."
Volume breakdown
Fixed income and commodity ETFs were primarily bought in December in contrast to their equity-based counterparts, which saw 'sells' outstrip 'buys' by ten percentage points. Activity in the asset class accounted for 64% of the overall platform flow. North America Equities was once again the most heavily-traded sector during the month with nearly EUR 5.4 billion in traded notional.





Top ten by traded notional volume
Equity and fixed income products shared December's list of most actively-traded ETFs, with the iShares Core S&P 500 UCITS ranked first. The fund, which offers diversified exposure to U.S. large-cap stocks, featured in the top ten list nine times in 2018.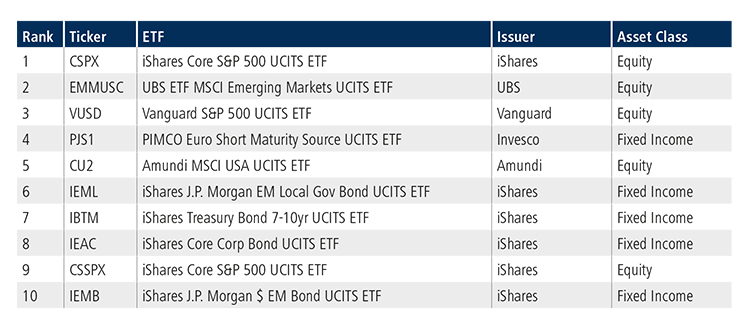 U.S.-LISTED ETFs

Total traded volume
Total consolidated U.S. ETF notional value traded in December 2018 rose 118% year over year to USD 15.5 billion. Total volume traded in 2018 of USD 106.9 billion exceeded full-year 2017 volume of USD 55.2 billion by 93.5%.
Volume breakdown
As a percentage of total notional value, equities accounted for 64.1% and fixed income for 29.3% with the remainder comprised of commodity and specialty ETFs.





Adam Gould, Head of U.S. Equities at Tradeweb, said: "December is usually a particularly busy month for ETF trading, and 2018 was no exception. Extreme volatility across multiple asset classes helped drive money managers to ETFs for various reasons including (but not limited to) portfolio hedging, tactical positioning and strategic tax management. In many cases, the ETF can be a leading indicator of where the underlying fund holdings are moving. In chaotic markets, the ability to put on or take off exposure via one security can be compelling."

Top ten by traded notional volume
During the month, 682 unique tickers traded on Tradeweb's U.S. ETF platform. As the yield curve inverted, interest in short term bond funds escalated, with two funds – iShares 1-3 Year Treasury Bond ETF (Nasdaq: SHY) and Vanguard's Short Term Bond ETF (NYSE: BSV) – leading the pack.