Data Points - ETF Update – November 2018
| Equities
The following data is derived from trading activity on the Tradeweb Markets institutional European- and U.S.-listed ETF platforms.


EUROPEAN-LISTED ETFs
Total traded volume
Notional volume executed on the Tradeweb European ETF marketplace reached EUR 22.6 billion in November, the platform's fourth best performance on record. Nearly 44% of transactions were processed via Tradeweb's Automated Intelligent Execution (AiEX) functionality.
Adriano Pace, head of equities (Europe) at Tradeweb, said: "Adoption of RFQ trading in the ETF space continues to increase, as buy-side firms become more confident in using electronic venues like Tradeweb to conduct their business. The benefits of doing so include the ability to fulfil both their transparency and best execution requirements much more efficiently, and also to enhance their trading workflows using time- and cost-effective solutions such as our AiEX tool."
Volume breakdown
All European ETF asset classes saw net buying in November, albeit by a small margin. Activity in equity-based products remained high at 64% of the overall platform flow, and outperformed the previous 12-month rolling average by two percentage points. Corporate Bonds was the only fixed income segment to feature among the five most heavily-traded ETF categories during the month, with an equal split between 'buys' and 'sells'.


Top ten by traded notional volume
Despite the high proportion of equity ETF trading in November, two fixed income instruments topped the list of most actively-traded funds. The iShares JP Morgan EM Local Gov Bond UCITS ETF was ranked first, after last holding the top spot in September 2018.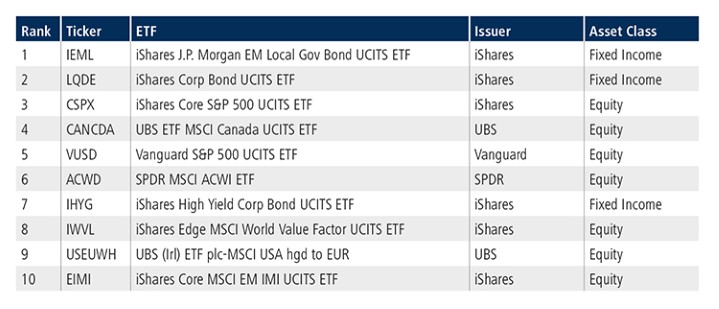 U.S.-LISTED ETFs
Total traded volume
Total consolidated U.S. ETF notional value traded in November 2018 rose 131% year over year to USD 9.9 billion. Total volume traded year to date of USD 91.4 billion has already exceeded full-year 2017 volume of USD 55.2 billion by 65.5%.
Volume breakdown
As a percentage of total notional value, equities accounted for 60.5% and fixed income for 29.2% with the remainder comprised of commodity and specialty ETFs.

Adam Gould, Head of U.S. Equities at Tradeweb, said: "November continued an extremely busy few months on the platform. Volatility in the market drove fund managers to rebalance portfolios more frequently, and inflows and outflows generated an outsized need for cash equitization, which is frequently achieved through ETFs. Volumes in the ETF market are typically quite high into year-end – suggesting activity could sustain well into December."
Top ten by traded notional volume
During the month, 651 unique tickers traded on Tradeweb's U.S. ETF platform. The single most traded ETF by notional value traded during the month was the iShares MSCI EAFE ETF (NYSE: EFA), one of several funds focused on global stocks.