Tradeweb Exchange-Traded Funds Update – May 2021
| Equities
The following data is derived from trading activity on the Tradeweb Markets institutional European- and U.S.-listed ETF platforms.
EUROPEAN-LISTED ETFs
Total traded volume
Traded notional volume on the Tradeweb European ETF marketplace reached EUR 38.2 billion in May, while the proportion of transactions completed via Tradeweb's Automated Intelligent Execution (AiEX) tool increased to 75.6%.
Volume breakdown
All ETF asset classes saw net buying for the second consecutive month. Traded volume in equity ETFs increased to 68% of the total platform flow, beating the previous 12-month rolling average by six percentage points. Commodity ETFs also experienced higher trading activity and were mostly bought.
Adriano Pace, head of equities (Europe) at Tradeweb, said: "In May, the bid/offer spread across all quoting dealers on the platform was 66% tighter than the average dealer quote spread. This clearly indicates that by putting multiple dealers in competition via the request-for-quote mechanism, buy-side clients can achieve strong pricing when trading ETFs on platforms like ours."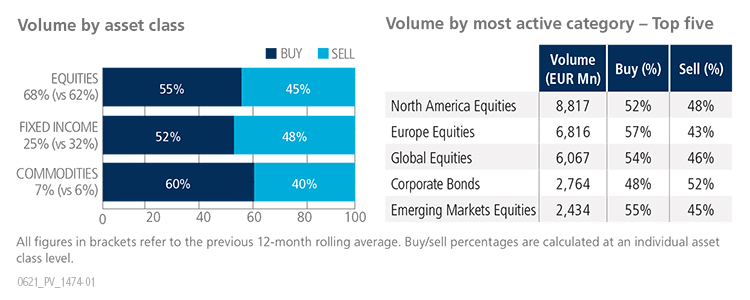 Top ten by traded notional volume
There were six stocks-based products in May's top ten list by traded notional volume, with fixed income and commodity ETFs sharing the remaining four spots. The iShares Core S&P 500 UCITS ETF moved up one place to claim the top spot, followed by the iShares MSCI USA SRI UCITS ETF, a fund tracking the performance of an index composed of U.S. ESG (environmental, social and governance) screened companies.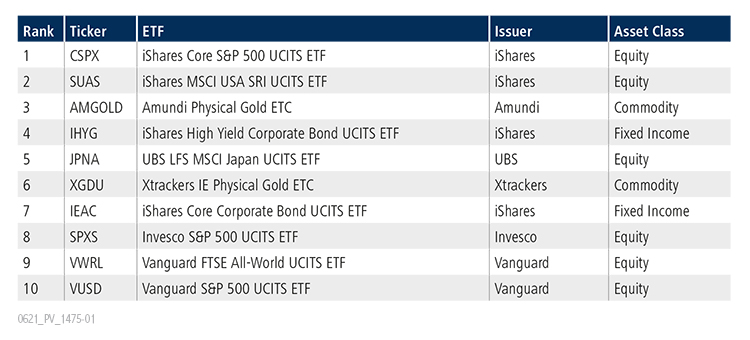 U.S.-LISTED ETFs
Total traded volume
Total consolidated U.S. ETF notional value traded in May 2021 was USD 26 billion, the platform's second best monthly performance since March 2020.
Volume breakdown
As a percentage of total notional value, equities accounted for 58% and fixed income for 36%, with the remainder comprising commodity and specialty ETFs.


Adam Gould, head of U.S. equities at Tradeweb, said: "Although most markets experienced muted volatility in May, trading activity in U.S.-listed ETFs continued to increase. The sheer number of unique ETFs traded on our platform highlights how many different funds are available for money managers to utilize. The electronic RFQ protocol may still be new on equity trading desks, however, the buy-side is certainly finding it beneficial from a pricing, workflow and audit trail perspective."
Top ten by traded notional volume
During the month, a record 1200 unique tickers traded on the Tradeweb U.S. ETF platform. Credit ETFs made up three of the five most actively-traded products, an illustration of the immense amount of positioning and repositioning in that space. The J.P. Morgan BetaBuilders Europe ETF reclaimed the top spot after last occupying it in December 2020.