Tradeweb Exchange-Traded Funds Update – January 2022
| Equities
The following data is derived from trading activity on the Tradeweb Markets institutional European- and U.S.-listed ETF platforms.
EUROPEAN-LISTED ETFs

Total traded volume
The Tradeweb European ETF marketplace enjoyed its second strongest month since its launch in late 2012, with total traded volume amounting to EUR 66.1 billion in January. The proportion of transactions completed via Tradeweb's Automated Intelligent Execution (AiEX) tool was a record 82.2%.
Adam Gould, head of equities at Tradeweb, said: "January proved to be a volatile start to the year. In addition to the Omicron spike, inflation data and subsequently the expected number of central bank interest rate hikes both rose. Strong monthly volumes on both sides of the pond suggest that trading strategies using ETFs continue to grow in popularity. Recent market fluctuations have resulted in increased rebalancing activity, which in turn has resulted in much larger ETF trades conducted on our global ETF platform."
Volume Breakdown
All three ETF asset classes saw net buying for another month, particularly commodities. Trading activity in equity-based ETFs climbed to 67% of the total platform flow, with 'buys' surpassing 'sells' by eight percentage points. Products offering investment exposure to North America, Global and Europe Equities accounted for 59% of January's overall notional volume. Government and Emerging Markets Bonds were the most heavily-traded fixed income categories during the month.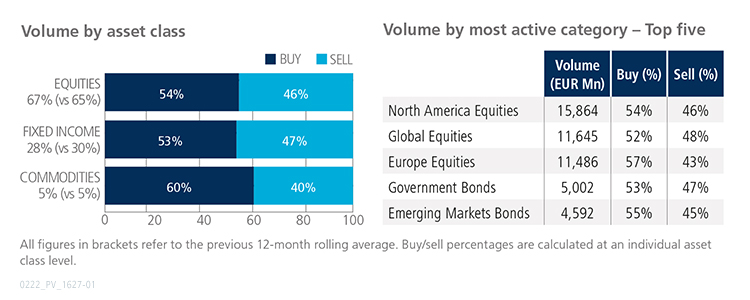 Top Ten by Traded Notional Volume
Equity products dominated January's top ten by traded notional volume list, which comprised two ETFs with a focus on ESG and SRI investments. However, the iShares Core S&P 500 UCITS ETF occupied the top spot for the sixth consecutive month.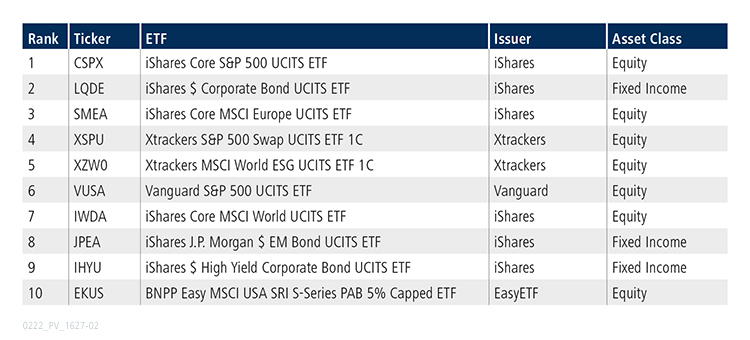 U.S.-LISTED ETFs
Total Traded Volume
Total consolidated U.S. ETF notional value traded in January 2022 reached a record USD 49.9 billion, beating the platform's previous best performance in July 2021 by USD 13 billion.
Volume Breakdown
As a percentage of total notional value, equities accounted for 62% and fixed income for 27%, with the remainder comprising commodity and specialty ETFs.



Adam Gould, head of equities at Tradeweb, said: "Global markets were rattled in January, providing a backdrop for heightened volatility and elevated trading volumes. While pockets of the market, such as energy performed well, broad based indices were generally down across the board. Technology in particular suffered large declines. While these market conditions are not ideal, they generally bode well for ETF volumes, as clients use the wrapper to transfer large amounts of risk quickly, hedge portfolios and express short-term tactical views."
Top Ten by Traded Notional Volume
During January, a record 1,881 unique tickers traded on the Tradeweb U.S. ETF platform. There was an equal split between equity and fixed income products in the top ten list by traded notional volume, with the iShares iBoxx $ High Yield Corporate Bond ETF ranked first for the second consecutive month.