Tradeweb Exchange-Traded Funds Update – February 2022
| Equities
The following data is derived from trading activity on the Tradeweb Markets institutional European- and U.S.-listed ETF platforms.
EUROPEAN-LISTED ETFs

Total traded volume
February proved to be the third strongest month on record for the Tradeweb European ETF marketplace, with total traded volume reaching EUR 64.4 billion. Approximately 81% of transactions were processed via Tradeweb's Automated Intelligent Execution (AiEX) tool.
Adam Gould, head of equities at Tradeweb, said: "February was another turbulent month across global markets. While the impact of the omicron variant softened, continued uncertainty around interest rate hikes and geopolitical tensions in Europe set the backdrop for investor concern. In the current fast markets, we believe the ability for clients to view multiple risk markets quickly and simultaneously, execute and move on, makes electronic RFQ platforms a great fit."
Volume breakdown
Both equity and commodity ETFs saw net buying in February in contrast to their fixed income counterparts. Trading activity in bond-based products increased to 32% of the overall platform flow, beating the previous 12-month rolling average by two percentage points. North America Equities was the most aggressively-traded ETF category during the month, with Europe Equities narrowly surpassing Global Equities to reclaim second place.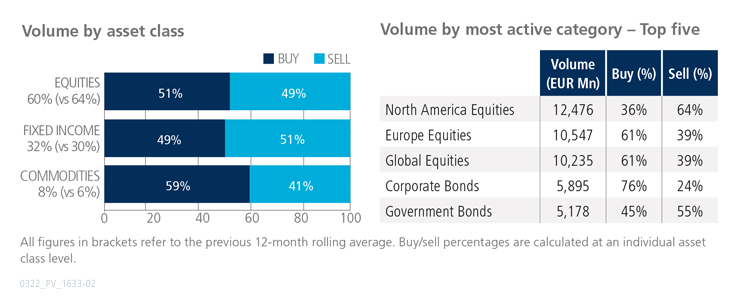 Top ten by traded notional volume
There were three ESG- and SRI-focused products among February's most heavily-traded ETFs. However, the iShares Core S&P 500 UCITS ETF held on to the top spot for the seventh month in a row.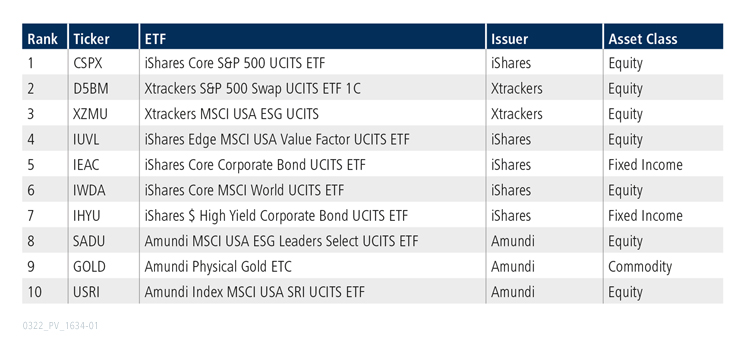 U.S.-LISTED ETFs

Total traded volume
Total consolidated U.S. ETF notional value traded in February 2022 amounted to USD 44.2 billion, the platform's second best performance since its launch in early 2016.
Volume breakdown
As a percentage of total notional value, equities accounted for 45% and fixed income for 51%, with the remainder comprising commodity and specialty ETFs.




Adam Gould, head of equities at Tradeweb, said: "Pricing across liquidity providers continues to vary widely depending on how their books are positioned at any given point throughout the day. While going to one or two liquidity providers may have made sense to certain customers in slower markets, our clients have said that accessing a wider liquidity pool on electronic RFQ platforms like Tradeweb has been helpful in this environment, and they expect this trend to continue."
Top ten by traded notional volume
During February, 1,792 unique tickers traded on the Tradeweb U.S. ETF platform. The month's top ten by traded notional volume mainly consisted of fixed income ETFs, with the iShares iBoxx $ High Yield Corporate Bond ETF ranked first for the third consecutive month.