Tradeweb Exchange-Traded Funds Update – December 2020
| Equities
The following data is derived from trading activity on the Tradeweb Markets institutional European- and U.S.-listed ETF platforms.


EUROPEAN-LISTED ETFs
Total traded volume
Trading activity on the Tradeweb European ETF marketplace reached EUR 36.3 billion in December. The proportion of transactions processed via Tradeweb's Automated Intelligent Execution (AiEX) tool was 72%.
Adriano Pace, head of equities (Europe) at Tradeweb, said: "December marked the end of another recording-breaking year for our European ETF platform, which saw total traded volume exceed EUR 470 billion in 2020, up 30% from 2019 and 87% from 2018. The number of transactions also increased by over 41%, a testament to the efficiency and execution certainty our platform affords our clients, even at times of intense market conditions."

Volume breakdown
All ETF asset classes saw net buying in December. Equities-based products accounted for 65% of the overall platform flow, beating the previous 12-month rolling average by six percentage points. Trading activity in commodity ETFs dropped to 4%, as a proportion of the total traded volume, for the first time since December 2019.

Once again, North America Equities topped the list of most heavily-traded ETF categories, followed by Europe Equities and Global Equities.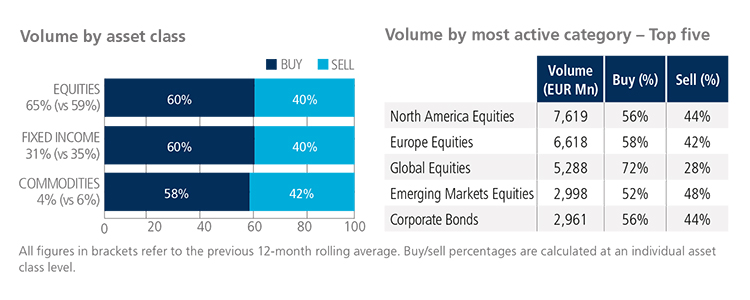 Top ten by traded notional volume
Two ESG-focused products, the iShares MSCI World ESG Enhanced UCITS ETF and the Amundi Index S&P 500 - UCITS ETF, were included in December's top ten list by traded notional volume. Ranked first, the iShares $ High Yield Corporate Bond UCITS ETF tracks the performance of the Markit iBoxx USD Liquid High Yield Capped Index as closely as possible.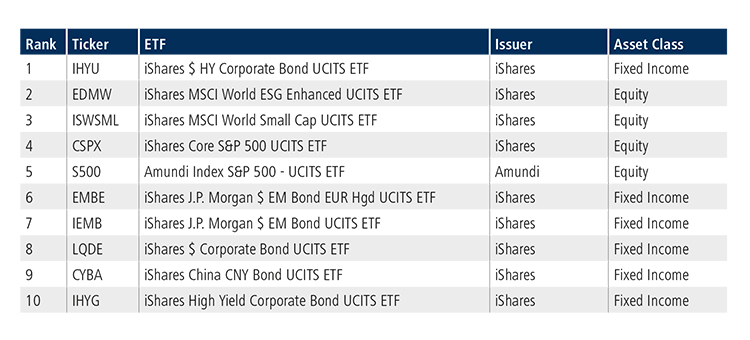 U.S.-LISTED ETFs

Total traded volume
Total consolidated U.S. ETF notional value traded in December 2020 reached USD 14.7 billion.

Volume breakdown
As a percentage of total notional value, equities accounted for 65% and fixed income for 27%, with the remainder comprising commodity and specialty ETFs. The proportion of U.S. ETF trades executed on the platform via the Tradeweb AiEX tool increased to 48%.

Adam Gould, head of U.S. equities at Tradeweb, said: "December's strong performance contributed to a record-breaking year for U.S. ETF trading on our platform. Total traded volume surpassed USD 188 billion in 2020, up by over 50% from the prior year, with 44% of the notional executed in fixed income ETFs. Looking back, our platform's ease of use fit well with the work-from-home environment our customers were thrown into."

Top ten by traded notional volume
During the month, 777 unique tickers traded on the Tradeweb U.S. ETF platform. Equity-based products dominated December's list of most actively-traded ETFs, with the J.P. Morgan BetaBuilders Europe ETF returning to the top spot for the first time since June 2020.