Tradeweb Exchange-Traded Funds Update – April 2021
| Equities
The following data is derived from trading activity on the Tradeweb Markets institutional European- and U.S.-listed ETF platforms.
EUROPEAN-LISTED ETFs
Total traded volume
Traded notional volume on the Tradeweb European ETF marketplace amounted to EUR 39.2 billion in April, while the proportion of transactions completed via Tradeweb's Automated Intelligent Execution (AiEX) tool rose to 73.8%.
Volume breakdown
All ETF asset classes saw net buying in April. Activity in fixed income ETFs increased to 32% of the entire platform flow, lagging the previous 12-month rolling average by just a percentage point. North America and Europe Equities proved to be the month's most actively-traded categories, accounting for 40.5% of the overall traded volume.
Adriano Pace, head of equities (Europe) at Tradeweb, said: "The first four months of 2021 point to a potentially blockbuster year for the ETF industry, both in terms of trading activity and fund inflows. With the exception of Emerging Markets Equities and Energy Commodities, all ETF categories were mostly bought in April. The month also saw a record proportion of notional volume executed in European-listed ETFs via AiEX, as institutional investors continue to expand their use cases for the rules-based solution."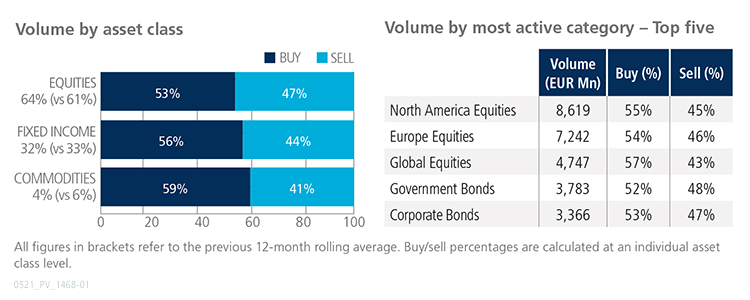 Top ten by traded notional volume
There was an equal split between equity and fixed income products in April's top ten by traded notional volume, with the Invesco S&P 500 UCITS ETF ranked first. In fifth place, the iShares China CNY Bond UCITS ETF, which reflects the return of the Bloomberg Barclays China Treasury + Policy Bank Index, made its second ever appearance in the list.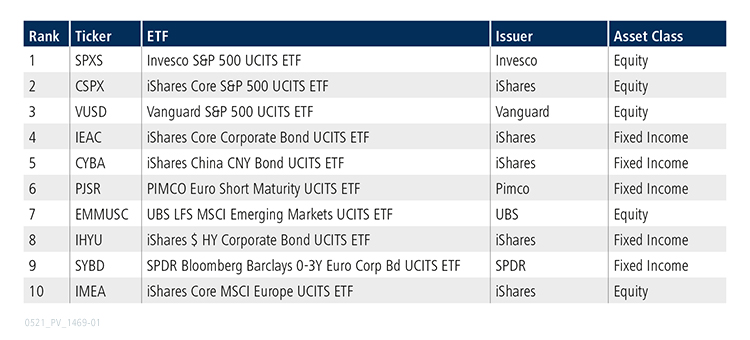 U.S.-LISTED ETFs
Total traded volume
Total consolidated U.S. ETF notional value traded in April 2021 reached USD 25.2 billion, just USD 1.95 billion below the platform's record performance in March 2020.
Volume breakdown
As a percentage of total notional value, equities accounted for 47% and fixed income for 48%, with the remainder comprising commodity and specialty ETFs.


Adam Gould, head of U.S. equities at Tradeweb, said: "Clients continue to embrace ETFs as an important tool across a wider set of use cases. While we typically see an outsized portion of our trading volumes in fixed income ETFs, this was the first month in a while where we saw more trading in that asset class than in equities. This was largely driven by meaningful client positioning across the Treasury curve, with 4 of the 5 most actively traded funds benchmarked to Treasuries."
Top ten by traded notional volume
During the month, a record 1132 unique tickers traded on the Tradeweb U.S. ETF platform. There were seven fixed income products among April's ten most heavily-treaded ETFs, five of which offer investor exposure to Treasuries. The iShares 20 Plus Year Treasury Bond ETF was ranked first. This was the fund's third consecutive appearance in the top ten list.