Tradeweb European Exchange-Traded Funds Update - July 2018
| Tradeweb
The following data is derived from trading activity on the Tradeweb European-listed ETF platform.
ETF total traded volume
Notional volume executed on the Tradeweb European-listed ETF marketplace reached €18.23 billion in July, against a background of geopolitical risk concerns. During the month, more than one third of all European ETF transactions were processed via Tradeweb's Automated Intelligent Execution (AiEX) tool.
Adriano Pace, head of equities (Europe) at Tradeweb, said: "The average trade size conducted on the platform was €1.6 million in July, down from €2 million in the previous month, as a result of the traditional summer slowdown. However, buy-side clients benefited from faster responses to their trade enquiries, a clear indication of the increased adoption of automated trading by ETF-investing firms."
ETF volume breakdown
Commodity-based products were the only ETFs to see net selling in July, with 69% of trading activity in the asset class attributed to 'sells'. Meanwhile, overall activity in equity ETFs amounted to 61% of the total platform flow, two percentage points lower than the previous 12-month rolling average. Fixed income ETFs were strongly bought, with 'buys' surpassing 'sells' by 22 percentage points.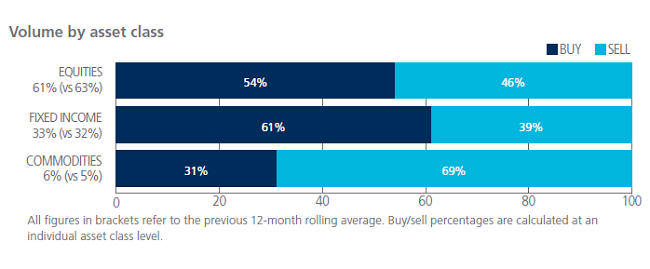 Top ten ETFs by traded volume
There were seven equity products among July's most heavily-traded ETFs, with the SPDR MSCI ACWI ETF ranked first. The fund invests primarily in securities included in the MSCI ACWI (All Country World Index) Index, including stocks and shares issued by companies in both developed and emerging market countries from around the world. In second place, the iShares Core Corporate Bond UCITS ETF made the top ten list for the third consecutive month this year.