Rising Inflation and Central Bank Policy Drives 24%-plus increase in TIPS and ILBs trading
| Tradeweb
TIPS activity increased to 6.5% of U.S. Government Bond Trading, with index-linked bond (ILB) trading representing 6.3% of European Government Bond trades on Tradeweb
Tradeweb has seen over a 24% increase in trading activity of inflation products this year, following a rise in global inflation figures after remaining largely subdued for much of 2015 and 2016.
In particular, trading of U.S. Treasury Inflation Protected Securities (TIPS) and Eurozone Index-Linked Bonds (ILBs) has increased both in absolute and relative terms. Compared to overall U.S. government bond volumes (excluding Bills), TIPS activity this year represents 6.46% of Treasury volume vs. 5.58% last year, while ILBs represent 6.27% of activity in the European government bond market vs. 5.30% a year ago. UK Gilt ILBs represent approximately 17% of total activity in that market, which is much more mature than its US and Eurozone counterparts.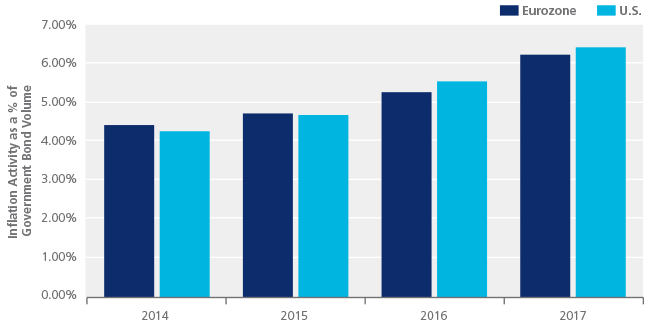 In addition to the general rise in trading of inflation-linked products, there has been an increase in demand for inflation protection in the U.S. Amid the backdrop of recent hurricanes and FOMC announcement to begin unwinding its portfolio, buying activity has been at the higher end of its post-crisis historical range in both August and September. Moreover, September has seen the highest notional-weighted buying as a percent of total TIPS activity since August 2016. This increase in buying activity coincided with a fairly significant re-widening of breakevens, with 10-year point about 10bp wider over the past month.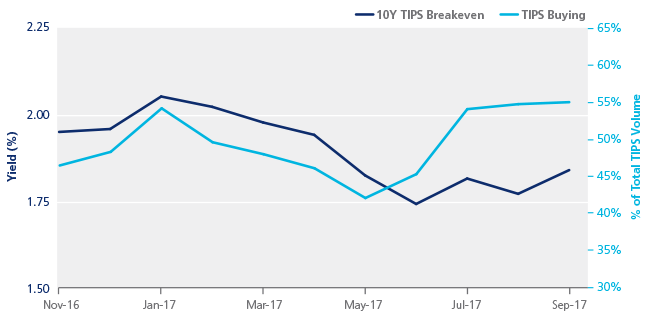 With growing demand for inflation this year, Tradeweb recently launched RFQ inflation swaps in Europe to enhance access to liquidity in these products. Traders can now request prices from multiple dealers simultaneously on one screen, and complete their transactions more quickly and efficiently with straight through processing and innovative functionality, such as compression and list trading.
To learn more about how Tradeweb can enhance your rates business, click here.