Data Points - ETF Update - February 2019
| Equities
The following data is derived from trading activity on the Tradeweb Markets institutional European- and U.S.-listed ETF platforms.


EUROPEAN-LISTED ETFs

Total traded volume
Total traded volume on the Tradeweb European ETF marketplace surpassed EUR 29.5 billion in February, beating January's previous record-breaking performance by EUR 1.3 billion. The share of European ETF transactions processed via Tradeweb's Automated Intelligent Execution tool (AiEX) climbed to its highest level yet of 46.5%.

Adriano Pace, head of equities (Europe) at Tradeweb, said: "The platform continued to gain momentum with exceptionally high flows despite the shorter month. North America Equities ETFs were primarily bought for the first time since October last year, as the U.S. Fed and other central banks adopted a more dovish tone."

Volume breakdown
Both equities and fixed income ETFs saw net buying during the month, while 'buys' mirrored 'sells' in commodity products. Corporate Bonds proved to be the most active debt-based ETF category with over EUR 2.5 billion in traded notional.




Top ten by traded notional volume
Half of February's top ten ETFs by traded volume offer exposure to U.S. equities. Ranked first, the iShares Core S&P 500 UCITS ETF last occupied the top spot in December 2018.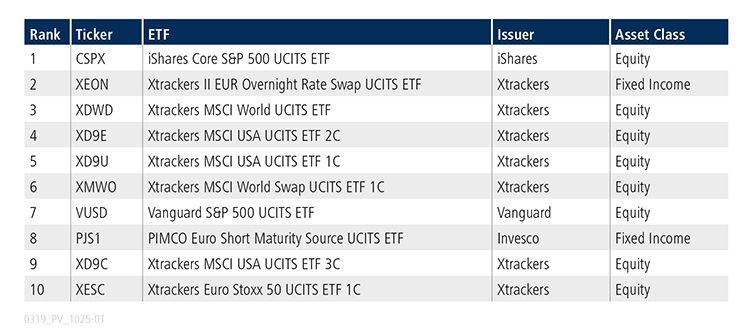 U.S.-LISTED ETFs

Total traded volume
Total consolidated U.S. ETF notional value traded in February 2019 was USD 13.2 billion.

Volume breakdown
As a percentage of total notional value, equities accounted for 37.3% and fixed income for 55.8%, with the remainder comprised of commodity and specialty ETFs.





Adam Gould, Head of U.S. Equities at Tradeweb, said: "The spike in the VIX last February prompted very high volume in most asset classes, and in turn across ETFs everywhere. One year later, volatility was significantly more subdued, causing lower trading volumes and less portfolio turnover. That being said, volume on Tradeweb's U.S. ETF platform still grew 81% year over year, speaking to the utility of the RFQ protocol in facilitating large trades off exchange. We're very encouraged by this progress. Looking to the products traded themselves, fixed income ETFs continued to make up an outsized portion of volume, increasing to 55.8% of total traded from 45.4% the month prior. We believe this is a result of fixed income money managers continuing to reallocate bond ETF positions, as the consensus for rate hikes changes."

Top ten by traded notional volume
During the month, 575 unique tickers traded on Tradeweb's U.S. ETF platform. Market interest in bond ETFs was reflected in the top tickers – for the second consecutive month, fixed income ETFs crowded our top ten ranking.