Exchange-Traded Funds Update - July 2015
| Tradeweb
The following data is derived from trading activity on the Tradeweb European-listed ETF platform.
ETF total traded volume
Activity on the Tradeweb European-listed ETF marketplace showed no signs of easing in July. Monthly total traded volume surpassed €10.4 billion for the third time in the platform's history, despite market concerns over the Greek debt crisis and heightened volatility in the Chinese stock market.
Volume by ETF asset class
In July, "buys" in equity and fixed income ETFs outstripped "sells" by one and three percentage points respectively, reversing a trend of net selling in the previous two months. Conversely, commodity-based ETFs mostly saw "sells" during the month. Overall trading activity mirrored the 12-month rolling average across all asset classes.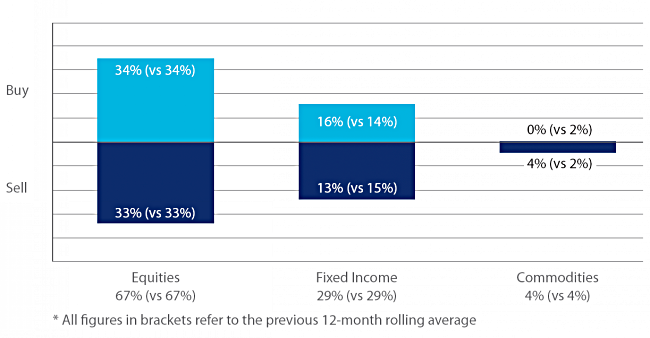 Top ten ETFs by traded volume
Three of July's most heavily traded funds offer exposure to global equities, with the db x-trackers MSCI AC World Index UCITS ETF holding the top spot. In fourth place, the Amundi ETF MSCI EMU UCITS ETF made it into the top ten list for the fifth time this year.