Exchange-Traded Funds Update - January 2015
| Tradeweb
The following data is derived from trading activity on the Tradeweb European-listed ETF platform.
ETF total traded volume
The Tradeweb European-listed ETF platform enjoyed a record-breaking start to 2015. January's total traded volume reached €10.7 billion, up 47.4 per cent and €3.4 billion from December, and 35.3 per cent and €2.8 billion from October 2014, the previous strongest month.
Volume by ETF asset class
January saw an equal split between "buy" and "sell" requests on the platform for equity-based ETFs; their total traded volume increased by seven percentage points to 72 per cent, compared to the previous 12 months. In contrast, activity in fixed income and commodities-based ETFs decreased by five and two percentage points respectively, in relation to the overall traded volume. A remarkably high proportion – 68 per cent - of traded volume in fixed income-based ETFs was attributed to "buys", as the asset class continued to gain traction among investors.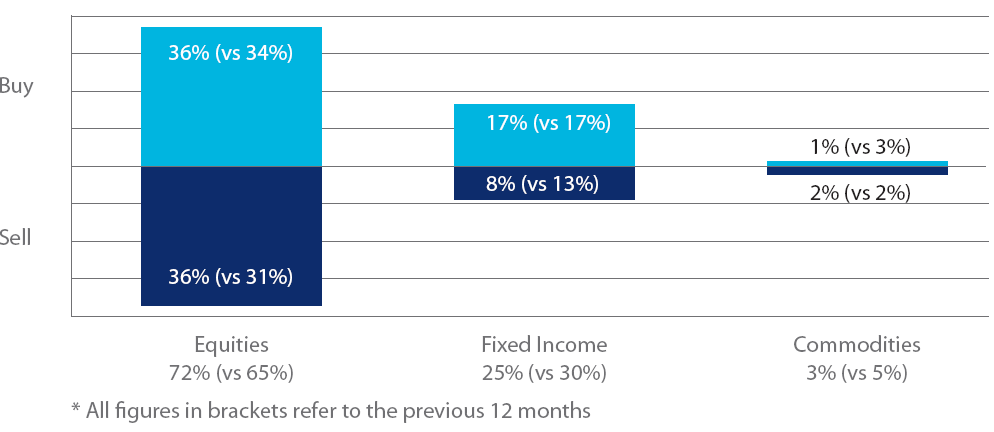 Top ten ETFs by traded volume
Nine of the top ten ETFs by traded volume in January offer exposure to equities, with a UK-focused fund ranked first for the second consecutive month. Runner-up Amundi ETF MSCI EMU UCITS ETF re-entered the top ten after featuring in fourth place back in November 2014.