European Exchange-Traded Funds Update - October 2017
| Tradeweb
The following data is derived from trading activity on the Tradeweb European-listed ETF platform.
ETF total traded volume
October proved to be another strong month for the Tradeweb European ETF marketplace, as total traded volume surpassed €13.7 billion, beating September by more than half a billion euros. Adriano Pace, managing director for equity derivatives at Tradeweb, said: "Despite ETFs not being subject to the new trading obligation under MiFID II, market participants still need to prepare for the advent of pre- and post-trade transparency requirements for transactions executed both on venue and OTC. By trading on a regulated platform such as Tradeweb's MTF, clients can rest assured that all reporting requirements will be taken care of. And if they opt to trade off venue, Tradeweb's FCA-authorised APA stands ready to offer full-scale comprehensive reporting services."
ETF volume breakdown
All ETF asset classes saw net buying in October. 'Buys' in equity and bond-based products outstripped 'sells' by four and three percentage points respectively, as a proportion of the entire platform flow. Overall fixed income ETF activity amounted to 35% of the total notional volume, beating the previous 12-month rolling average by three percentage points. Europe and North America Equities were the most actively traded categories, followed closely by Corporate Bonds.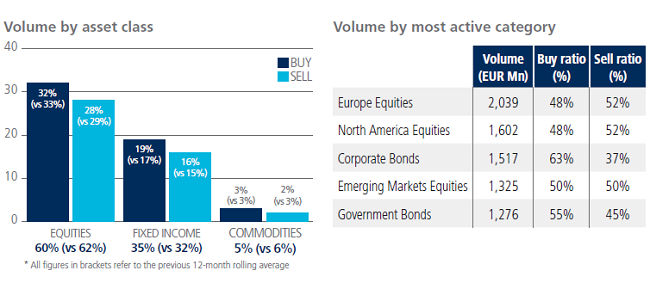 Top ten ETFs by traded volume
Equity-based instruments dominated October's most heavily traded ETF list, with the db x-trackers MSCI World Index UCITS ETF 1C ranked first. This is the sixth month the fund has featured among the top ten ETFs this year.