European Exchange-Traded Funds Update - May 2017
| Tradeweb
The following data is derived from trading activity on the Tradeweb European-listed ETF platform.
ETF total traded volume
Trading activity on the Tradeweb European-listed ETF marketplace reached a record-breaking €17.744 billion in May, narrowly beating the platform's previous strongest performance in March 2017. Adriano Pace, managing director for equity derivatives at Tradeweb, said: "In May, more than 30% of the platform's total traded volume was executed in ETFs offering exposure to European equities, as the election result in France and speculation ahead of the UK general election dominated headlines. North America equities were also very active, but were heavily offered."
ETF volume breakdown
Equity ETFs were the only asset class to see net selling during the month, with 'sells' outstripping 'buys' by two percentage points. Activity in the products increased to 70% of the overall notional volume, outperforming the 12-month rolling average by 11 percentage points. Meanwhile, 'buys' in fixed income ETFs surpassed 'sells' by five percentage points, as a proportion of the entire platform flow. Corporate Bonds and Government Bonds were the most heavily-traded fixed income categories over the course of the month, with €1.185 billion and €1.135 billion in traded volume respectively.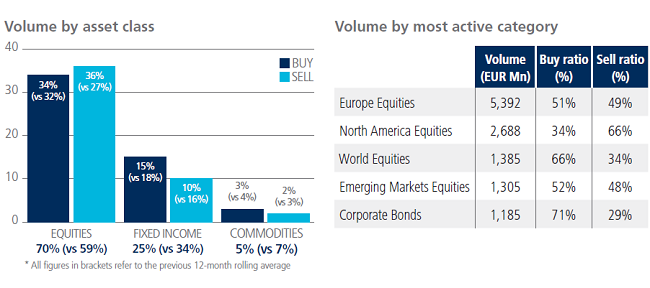 Top ten ETFs by traded volume
Equity-based products dominated May's top ten ETF list, with the iShares Edge MSCI Europe Value Factor UCITS ETF ranked first. The fund aims to provide investors with a total return, which reflects the return of the MSCI Europe Enhanced Value Index.