European Exchange-Traded Funds Update - March 2018
| Tradeweb
The following data is derived from trading activity on the Tradeweb European-listed ETF platform.
ETF total traded volume
The Tradeweb European-listed ETF marketplace maintained momentum in March amid market concerns over global trade disputes, technology stock pressures, and the wind-down of accommodative monetary policies. Monthly activity reached €18.43 billion, the platform's third best performance since its launch in October 2012. The share of European ETF transactions processed via Tradeweb's Automated Intelligent Execution tool (AiEX) increased to 37.2%.
Adriano Pace, managing director for equity derivatives at Tradeweb, said: "March was another strong month for European ETF trading on Tradeweb, and marked the end of a record-breaking quarter. Notional volume in the first three months of 2018 was just shy of €62.3 billion, up 38% year on year."
ETF volume breakdown
Equity-based ETFs saw net selling for the second consecutive month. Activity in the asset class accounted for 64% of the total platform flow, beating the previous 12-month rolling average by two percentage points. In contrast, commodity ETFs saw their overall traded volume drop to 3%, with 'buys' surpassing 'sells' by 12 percentage points.
Nearly €7 billion was executed in European and North American equity products, while Government Bonds proved to be the most heavily-traded fixed income ETF sector.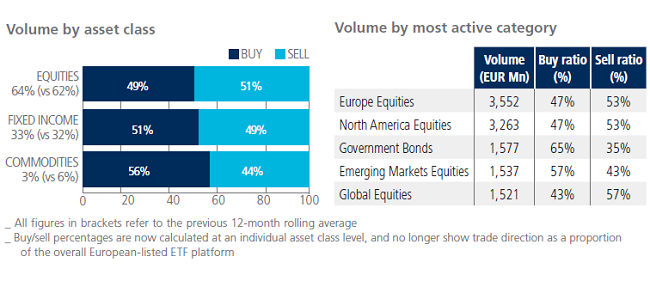 Top ten ETFs by traded volume
Four of the top ten ETFs by traded volume in March offer exposure to fixed income assets. However, the global equity-focused Xtrackers MSCI World Swap UCITS ETF was ranked first for the second month in a row. The fund was also the most active ETF in the first quarter of 2018.