European Exchange-Traded Funds Update - July 2017
| Tradeweb
The following data is derived from trading activity on the Tradeweb European-listed ETF platform.
ETF total traded volume
Total traded volume on the Tradeweb European-listed ETF marketplace exceeded €13.3 billion in July. Adriano Pace, managing director for equity derivatives at Tradeweb, said: "With market volatility falling to lower than average levels across most asset classes, activity on our European ETF platform held up remarkably well in July, and saw volumes increase nearly 10% on June's flow. On average, 93% of client enquiries resulted in completed transactions over the course of the month, demonstrating the consistency and quality of the liquidity provision available to them."
ETF volume breakdown
Equity ETFs saw net buying for the first time since March 2017. 'Buys' in the asset class outperformed 'sells' by eight percentage points. Similarly, 'buys' in fixed income products beat 'sells' by five percentage points as a proportion of the overall traded volume. Commodity-based ETFs were the only asset class to see net selling during the month. Equity Europe proved to be the most actively-traded ETF category with more than €2.8 billion in notional volume. Government Bond ETFs was the most active fixed income sector and saw €1.2 billion of the platform's total flow.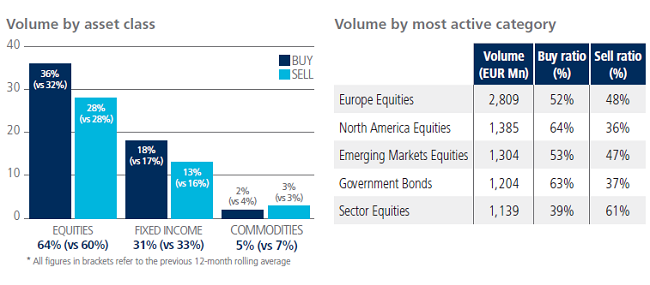 Top ten ETFs by traded volume
There were four products offering exposure to fixed income assets among July's most heavily-traded ETFs. In sixth place, the PIMCO Euro Short Maturity Source UCITS ETF featured in the top ten for the seventh consecutive month. However, the top spot was held by the Amundi ETF Euro Stoxx 50 UCITS ETF, a fund tracking the Dow Jones EURO STOXX 50 index which covers 50 leading securities of eleven Eurozone countries.