European Exchange-Traded Funds Update - February 2018
| Tradeweb
The following data is derived from trading activity on the Tradeweb European-listed ETF platform.
ETF total traded volume
Total traded volume executed on the Tradeweb European-listed ETF marketplace reached a record-breaking €24 billion in February, up 20% from January's activity. The share of transactions processed using Tradeweb's Automated Intelligent Execution tool (AiEX) increased to 36.4%, beating January by more than seven percentage points.
Commenting on February's record performance figures, Adriano Pace, managing director for equity derivatives at Tradeweb, said: "Enhanced best execution requirements under MiFID II have highlighted the benefits of transacting ETFs on electronic trading venues like Tradeweb. Investment firms must now take sufficient steps to achieve the best possible results for their clients in terms of price, costs, speed and likelihood of execution. E-trading helps institutional investors meet these obligations thanks to inherent features such as RFQ-based price discovery, improved access to liquidity, STP workflow efficiencies, and comprehensive audit trails logging each step of the trade lifecycle."
ETF volume breakdown
Monthly activity in equity-based ETFs amounted to 63% of the overall platform flow. 'Sells' in the asset class narrowly outstripped 'buys', with only Emerging Markets and North America equity products bucking the trend. Fixed income was the only ETF asset class to see net buying, while activity in commodity ETFs dropped to 4% of the total traded volume.
North America Equities emerged as February's most heavily-traded ETF category with more than €4.4 billion in notional volume. Nearly €2 billion was executed in Corporate Bond ETFs, the most active fixed income segment during the month.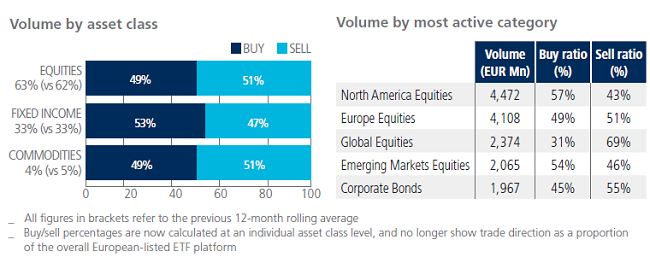 Top ten ETFs by traded volume
A fund offering exposure to global equities was February's most actively-traded ETF. The synthetically replicated Xtrackers MSCI World Index UCITS ETF last occupied the top spot in October 2017.