Data Points: Government Bond Update - September 2013
Key Points:
U.S. Treasury yields fall from 26-month highs following FOMC meeting
German bond yields down ahead of U.S. budget showdown
Italian and Spanish 10-year bond yields invert
Yields on so-called safe-haven bonds in the U.S. and Germany declined significantly in September after hitting multi-year highs in the first week of the month. In the U.S., yields on 10-year Treasury bonds fell 13 basis points from August 2013 levels, after climbing to a 26-month high of 2.98% on September 5. By the end of the month, yields had declined to 2.64%.
German bund yields followed a similar trajectory, reaching a 16-month high yield of 2.04% on September 5 before declining to 1.78% by the end of the month. Both U.S. and German yields were pushed sharply lower on September 18, following the conclusion of the U.S. Federal Reserve Open Market Committee meeting, during which the Fed voted to keep its QE3 stimulus program intact.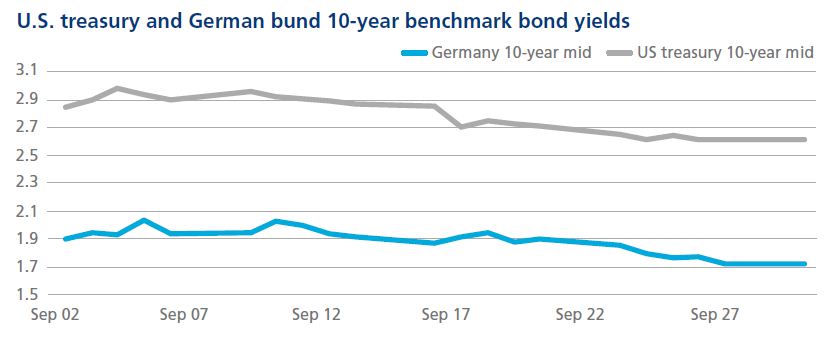 In the peripheral Eurozone, even though some economies have begun to show signs of improvement, renewed Italian political uncertainty caused over concerns that the coalition government could collapse, and created a volatile September. For the first time since March 2012, yields of Italy's 10-year benchmark bond were higher than the equivalent in Spain.

With the exception of Portugal, government bond yields generally fell in September.