Data Points: Government Bond Update - January
| Tradeweb
Key Points:
January selloff of "safe haven" country debt
Spain and Italy already very active in the primary debt market
Bank of Japan announces measures to meet 2% inflation target
U.S. Treasuries endured a significant selloff in January, coming under pressure in a month which showed some modestly upbeat signs on the U.S. economy, a temporary solution to the U.S. debt ceiling standoff and a shift into riskier assets that helped push the S&P 500 to its highest level in more than five years. The yield on the benchmark 10-year Treasury note climbed steadily throughout the month, with the intraday bid yield poking above the 2% level on January 28 for the first time in over nine months. As the month drew to a close, the 10-year yield slipped back and stabilized just below 2.0% following a report showing slower-than-expected fourth-quarter U.S. growth and news that the Federal Reserve will continue buying $85 billion a month in Treasuries and mortgage-backed securities. All told, the 10-year note ended the month at 1.9%, an increase of 23.8 basis points from the start of the year.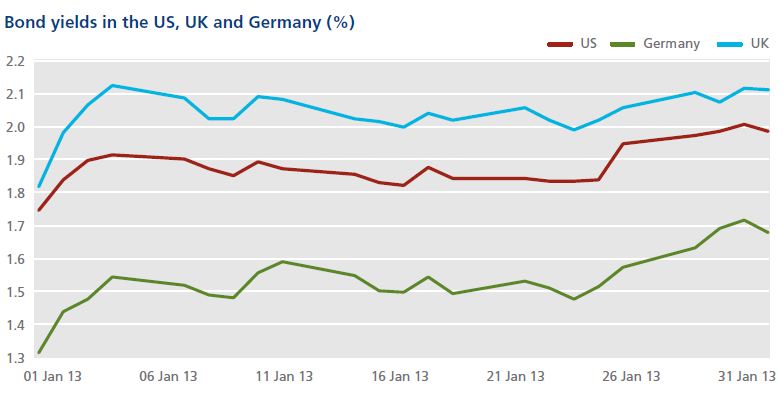 In Europe, there was a similar reaction in bond yields for core European countries as news of strong demand for peripheral country debt bolstered sentiment in January. Peripheral countries took advantage of attractive funding rates to issue a large proportion of their annual requirements. Spain and Italy both held successful bond auctions, while Ireland and Portugal tapped their respective 2017 issues.
Spain's 10-year benchmark bond yield closed at under 5.0% briefly after its auctions, and finished the month at 5.3% – down from 7.6% in July 2012, while yields on Italy's 10-year benchmark bond fell by 9 basis points over the month, closing at 4.4%. Yields on 10-year debt for Portugal and Ireland also trended lower during the month, with the former closing 64 bps lower at 6.0% and Ireland's equivalent closing at 4.1% (-35 bps).
In the UK, the National Statistician announced on January 10 that the formula for calculating the retail price index (RPI) doesn't meet international standards and recommended that a new index be published from March 2013. Prices increased on 2022 gilt linkers by 4 points and on 2040 linkers by 8 points in early morning trading that day.
The Bank of Japan announced plans to increase its asset purchase program by committing to buy 13 trillion yen of assets each month from 2014 in order to meet Prime Minister Abe's target of 2% inflation. Yields of 10-year Japanese government bonds fell 5 basis points in January, closing at 0.75%.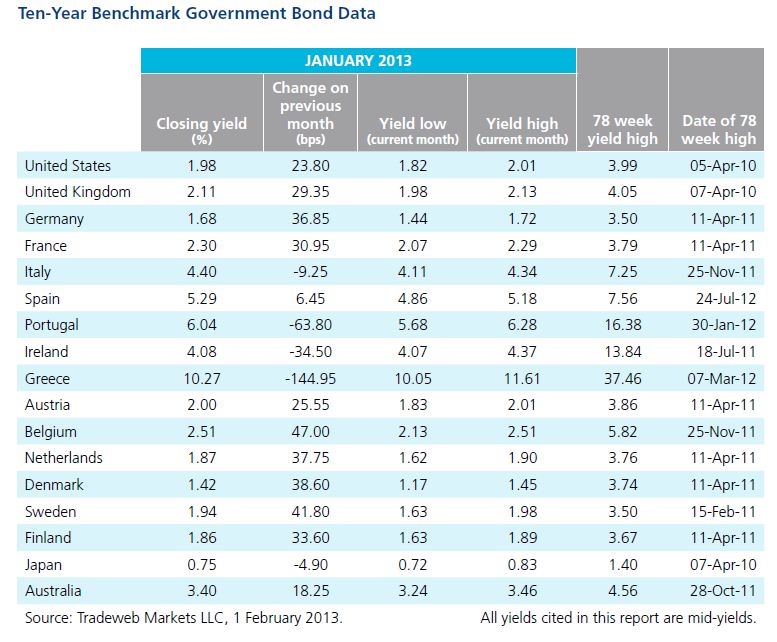 European peripheral bond yields all fell in January.