Data Points: Government Bond Update - April 2013
| Tradeweb
Key Points:
U.S. yields post 2013 lows
Long view shows U.S. Treasuries still in downtrend
Italy, Spain rally, reaching lowest yields since October 2010
The U.S. 10-year note rallied in April, hitting its lowest yield in 2013 and continuing a three month streak of falling yields alongside a lower-than expected reading on March employment and chatter that the Federal Reserve will continue its bond-buying programs indefinitely. The 10-year note hit a 2013 closing low of 1.66% on April 26. Volumes on Tradeweb for the first four months of 2013 were up about 16% versus the same period in 2012, even while Federal Reserve data showed flat dealer-to-customer volume. That suggests buy-side customers are increasingly comfortable transacting a higher proportion of their business over Tradeweb.

Despite historically low yields, a basic analysis suggests the 10-year Treasury yield is still squarely in a long-term down-trend. While nothing can predict the future, a chart of the 10-year note yield over the past 15 years – since the introduction of Tradeweb – seems to support this view.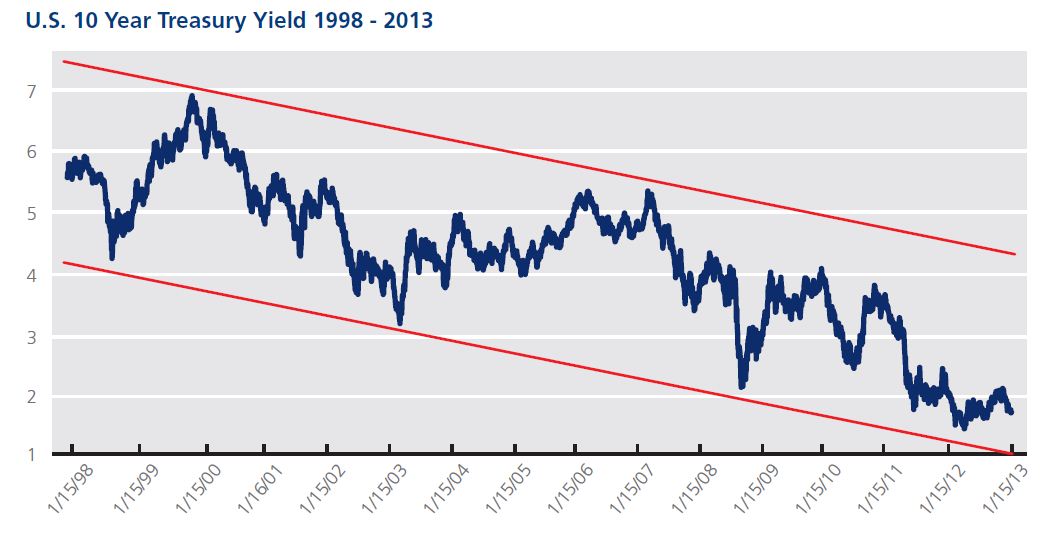 Spanish and Italian 10-year bonds hit their lowest yield in more than two and a half years in April. As global investors continue their hunt for yield, the Italian bond market saw the end of a two-month political stalemate. The re-election of President Giorgio Napolitano on April 20, was followed by the formation of a coalition government by Prime Minister-elect Enrico Letta on April 27. The Italian 10-year low yield of 3.88% and the Spanish 10-year low of 4.12% – both on April 30 – were the lowest those countries have seen since October 22, 2010. The strength in Eurozone governments was across the board, with yields in core countries also at or near historical lows. The German 10-year bid yield hit 1.20% on April 29, not far from its all-time low of 1.17% in June 2012.
Spanish and Italian bonds hit their lowest yield in more than two and a half years in April.