Data Points - ETF Update - August 2019
| Equities
The following data is derived from trading activity on the Tradeweb Markets institutional European- and U.S.-listed ETF platforms.


EUROPEAN-LISTED ETFs

Total traded volume
August proved to be a record-breaking month for the Tradeweb European-listed ETF marketplace. Total traded volume reached EUR 36.29 billion, up EUR 5.63 billion from July's previous best performance. The proportion of transactions executed via Tradeweb's Automated Intelligent Execution Tool (AiEX) increased to 70.1%, a new monthly high.
Adriano Pace, head of equities (Europe) at Tradeweb, said: "In a record month for trading activity on the platform, we saw the average trade size for both automated and non-AiEX transactions increase substantially. This clearly demonstrates that investors are able to successfully implement their trading strategies using the execution method that best suits their needs."
Volume breakdown
Both equity and fixed income ETFs saw net selling in August. 'Buys' in shares- and bond-based products lagged 'sells' by 22 and six percentage points, respectively. Conversely, their commodity counterparts continued to see strong buying, particularly in products offering exposure to precious metals, amid an uptick in investor risk aversion.
North America Equities was the most actively-traded category during the month, beating Europe Equities by EUR 2.37 billion.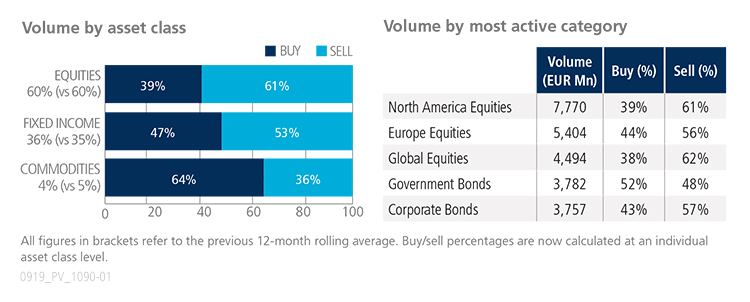 Top ten by traded notional volume
The iShares Core S&P 500 UCITS ETF was the most heavily-traded fund in August, after last featuring in the top spot in February and March 2019. Overall, there were four ETFs tracking the performance of U.S. stocks among the month's top ten list by traded notional volume.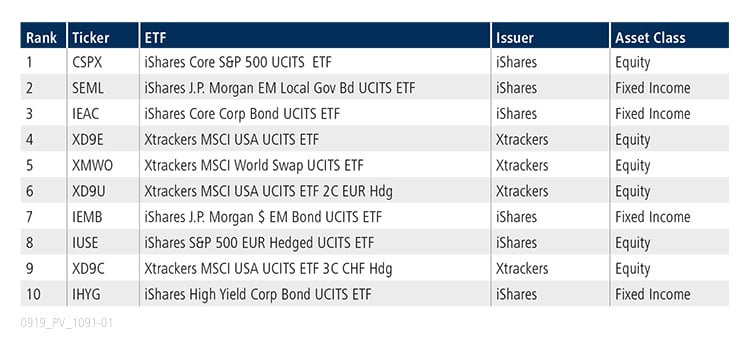 U.S.-LISTED ETFs

Total traded volume
Total consolidated U.S. ETF notional value traded in August 2019 was USD 15.35 billion.
Volume breakdown
As a percentage of total notional value, equities accounted for 51% and fixed income for 43%, with the remainder comprised of commodity and specialty ETFs. During August, 46% of U.S. ETF trades on the platform were executed via the Tradeweb AiEX tool.


Adam Gould, head of U.S. equities at Tradeweb, said: "Although August ushered in the unofficial end of the summer season, markets were extremely busy. Spikes in volatility precipitated a general flight to safety. As a result, clients continued to reposition portfolios, particularly on the fixed income ETF front, and the Tradeweb U.S. ETF platform had its second highest volume month after December 2018."
Top ten by traded notional volume
During the month, 543 unique tickers traded on Tradeweb's U.S. ETF platform, and fixed income ETFs occupied the top three spots of August's most heavily-traded by notional volume list.