Countdown to Category 3 Clearing – Delayed, But Not Forgotten
| Regulation
Mandatory clearing for Category 3 firms has now been delayed from June 21st to October 18th of this year. This move follows a recent review of the European Market Infrastructure Regulation (EMIR) – dubbed EMIR Refit.
While recent events may look like a reason for smaller firms to take a breath on their regulatory reporting and compliance efforts, the signals are clear: regulatory intention will keep the focus on clearing, so clients will want to prepare sooner rather than later – even if they are not mandated to do so.
Financial counterparties trading more than €3 billion notional in OTC interest rate swaps, foreign exchange and commodity derivatives, or €1 billion in equity and credit derivatives, are in scope of the EMIR Category 3 clearing requirement which is effective on October 18th.
Switching to the bigger picture, it is clear that all firms trading derivatives in Europe will want to ensure their houses are in order, so they are complying with mandated electronic trading and clearing requirements. Beyond the October deadline, the initial margin rules for uncleared derivatives for Phase 4 institutions take effect in September 2019 and the big bang of Phase 5 will take effect in September of 2020. Those preparing for clearing sooner rather than later will be in the best position to make this transition seamlessly.
At Tradeweb we've seen an emerging trend for instruments being traded and cleared electronically, even when there is no regulatory requirement. The chart below shows how the flexibility and breadth of instruments changed in e-trading of swaps. Tradeweb ran an internal analysis looking at those instruments defined by ESMA as subject to the Derivatives Trading Obligation (DTO) versus everything else in our euro and sterling markets.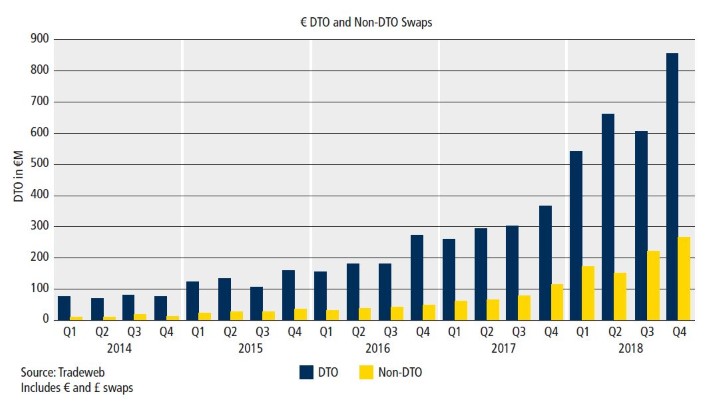 The chart shows there has been a dramatic growth in the percentage of Tradeweb volumes that is now non-DTO. In our view, this is owing to dramatic liquidity gains in the ability to trade forward and any date swaps, and additionally the ability to trade aged swaps on net present value (NPV).
For more information on EMIR Category 3 clearing requirements and what you need to do to prepare please visit our dedicated resource hub to learn more.