Building a Better Credit RFQ
| Credit

Iseult E.A. Conlin, CFA
Head of U.S. Institutional Credit, Tradeweb
Tradeweb Credit is breaking records in 2021, especially in electronic RFQ. Whether it's total volumes, total number of firms, or total number of individual users engaging on the platform, we continue to outperform last year's milestones. So far, we've seen investment grade traded volumes rise nearly 65% and high-yield traded volumes rise over 160% in comparison to 2020. In June, we had a single day record market share where Tradeweb accounted for over 30% of IG TRACE. There are more reasons now than ever to think of Tradeweb when you consider your next RFQ trade.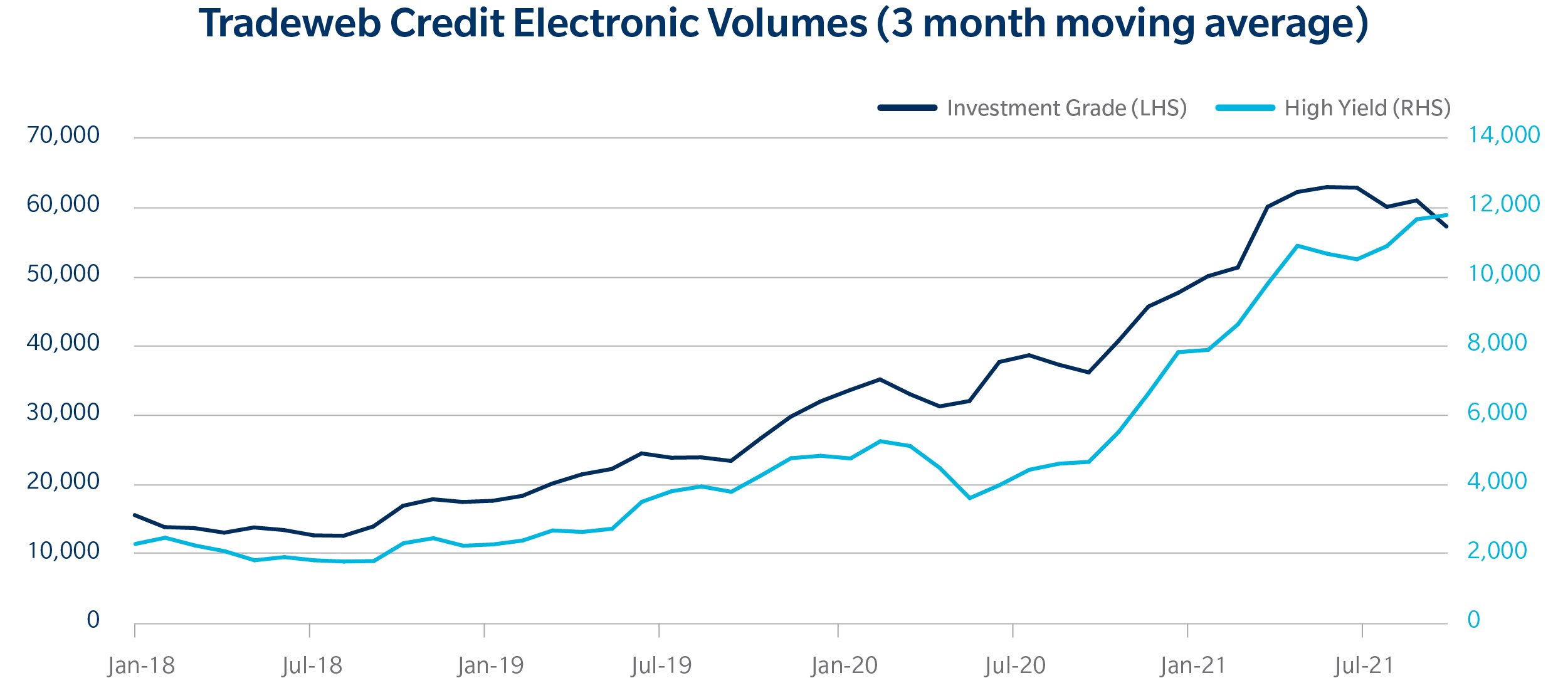 Source: Tradeweb Markets Monthly Activity Report. Volumes include Tradeweb, Dealerweb and Tradeweb Direct

Tradeweb launched the first fully electronic RFQ for Treasuries in 1998. Today our platform is one of the most comprehensive electronic trading ecosystems for rates, credit, equities and money markets. We build and deliver tools and technologies that are redefining the electronic credit trading landscape. It is no wonder that RFQ is the most popular electronic trading protocol on the Institutional Credit platform. Multi-Client Net Spotting and our award winning Automated Intelligent Execution (AiEX) are just some of the innovative tools that improve the RFQ trade lifecycle - saving participants time and money while accessing unique liquidity.
An RFQ at Tradeweb isn't just a means of leveraging a wider liquidity network at lower fees; it's a better RFQ entirely.
The Proof Is in the Liquidity
Whether a client trades disclosed or anonymously with Tradeweb AllTrade® , our A2A network, using an RFQ gives users access to 165 liquidity providers (including 90 dealers streaming from Tradeweb Direct), 675+ Buy-side and Sell-side accounts in the AllTrade A2A network, and $75+ billion in dealer runs and axes. There is no other electronic trading platform where clients can access liquidity from Institutional, Retail and Wholesale channels seamlessly through one interface. When compared with all disclosed counterparties, the Tradeweb AllTrade network ranks as the #4 dealer on the platform, providing an average price improvement of $1,573 per million.
Coupled with our Rematch protocol—a daily liquidity event providing access to hundreds of millions in unmatched dealer risk—in tandem with liquidity monitoring tools like Watchlists, Alerts and Responder Notifications, RFQ trading has options for every client's preference.
RFQ Simply Means More on Tradeweb
Compared to a basic RFQ, Tradeweb is a simple, optimized user interface with greater trader flexibility. Our RFQ protocol seamlessly integrates workflow and efficiency tools, such as Ai-Price reference pricing, which values 25,000+ bonds every 30 seconds. Our patent-pending Net Spotting technology gets clients as close to the mid Treasury spot as possible for all corporate buys and sells. We do this by facilitating the netting of Treasury risk across dealers, so clients never have to pay the bid/ask on the Treasury spot. By simply spotting your trades on the Tradeweb platform, clients can receive a better corporate dollar price.
Tradeweb brings RFQ functionality into the modern credit landscape, so clients can:
Trade buys and sells on one RFQ list with up to 200-line items regardless of bond type (i.e. IG, HY, EM)
Utilize 2 timing mechanisms (Due-In or ASAP) to trade when and how you like
Trade partials, multi-counter dealers and see your quotes as soon as they come in. No closed auctions on Tradeweb's RFQ.
See quoted responses from dealers and the AllTrade network as well as Z-Spread, I-Spread, G-Spread, Price, and Yield.
Cross and/or Spot trades on your schedule; responders aren't locked into your trading time, expanding the AllTrade Network to yet another set of exclusive liquidity

RFQ with Auto-Execution
Our Automated Intelligent Execution (AiEX) technology is an engine that auto-executes bonds based on pre-programmed execution rules. AiEX launched at the end of 2012 with 1 client for U.S. Treasuries. Today Tradeweb has 100+ firms using AiEX for 20+ products across rates, credit and equities.
AiEX now accounts for approximately 54% of IG RFQ Tickets and 38% of HY RFQ tickets.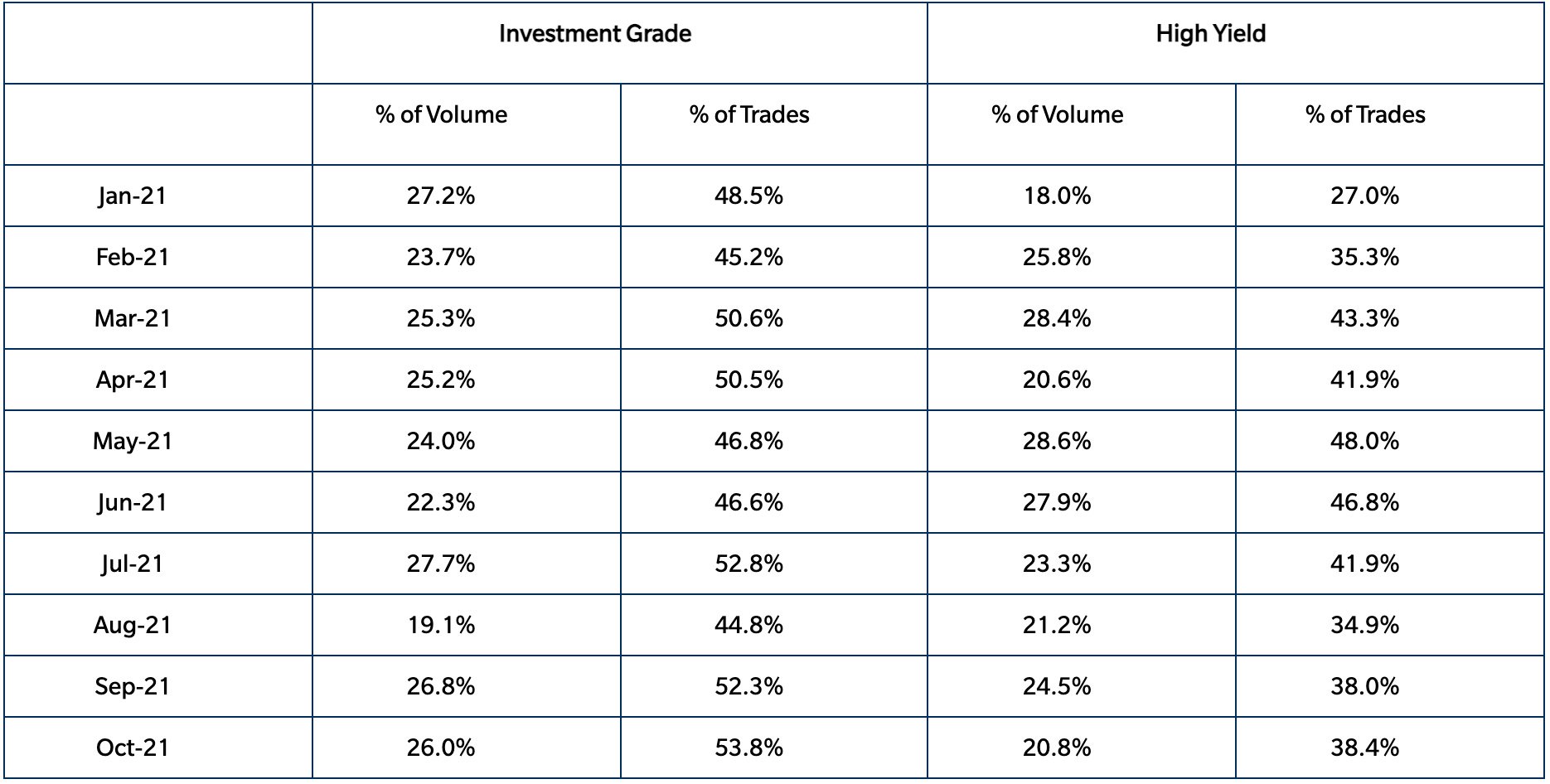 RFQs with built-in AiEX functionality combine automation with a human touch. Traders can send an RFQ List with both manual and AiEX eligible items, meaning some items will trade manually while others may auto-execute if the pre-programmed rules are met. This is a more efficient way to RFQ while keeping the trader in full control.
Existing traders leverage this functionality for odd-lot trading, transitions of funds with many line items, trading with limits, gain/loss programs, etc. It's also a convenient option for those who want to leverage automation, but maintain control of the RFQ. Tradeweb RFQ combines the best of List Trading and AiEX automation.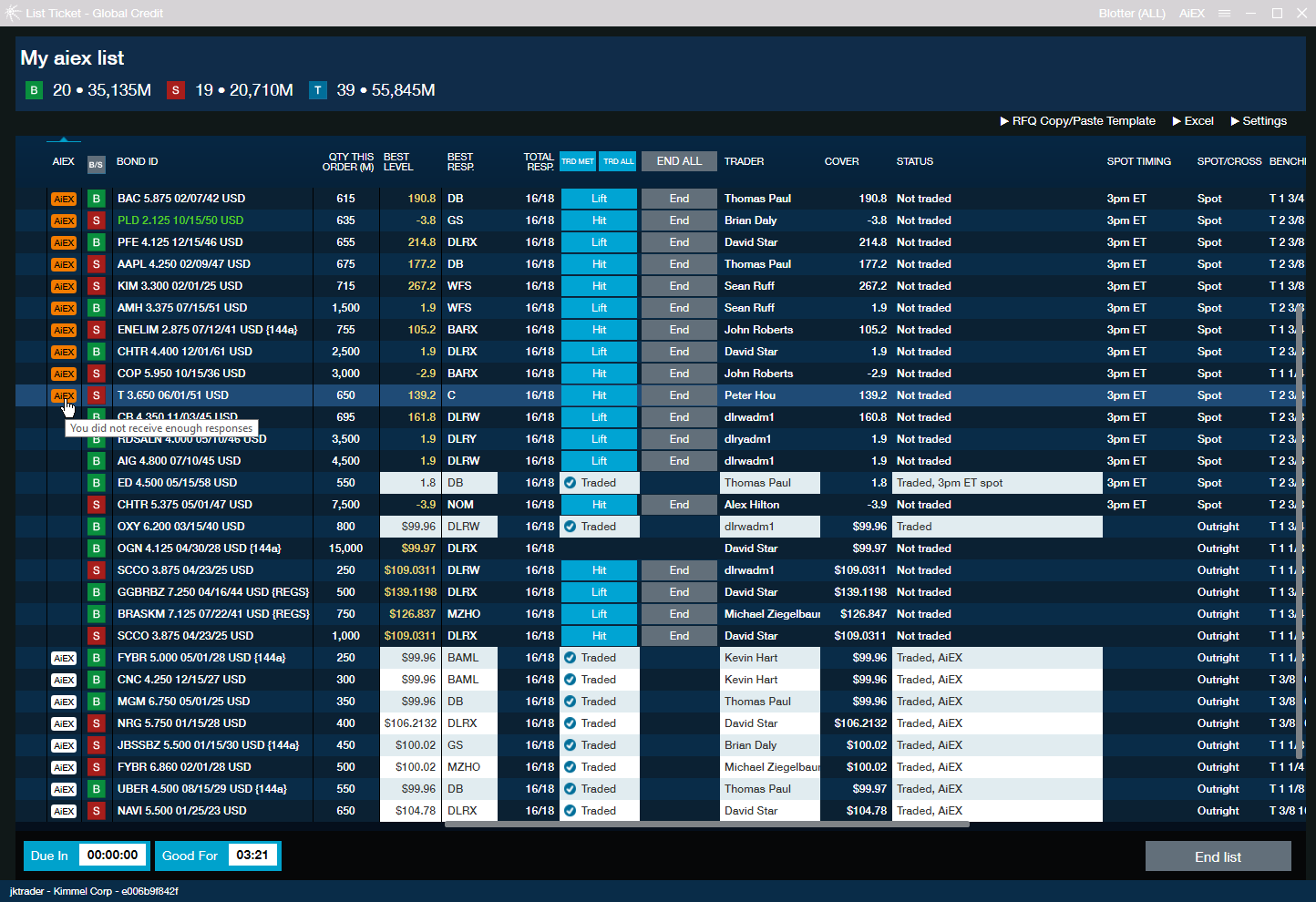 The Trader's Platform
Tradeweb sets itself apart as an established electronic credit solution. Our primary goal is to enhance traditional trading protocols and processes that have sustained the industry for decades. We continue to focus on improving each step with built-in compliance and automation capabilities that make it possible to trade faster and execute more accurately, while maximizing liquidity and profitability along the way.
Because of these innovations in RFQ, larger numbers of market participants embrace Tradeweb as their credit trading platform of choice. Just look at the numbers…
To find out how Tradeweb can be put to work for you, please contact creditteam@tradeweb.com.
Related Content
Connecting the Dots of Innovation – A Breakthrough in All-To-All Trading