End-of-Day Gilt Reference Prices

Tradeweb and FTSE Russell are the providers of Gilt and Treasury bill end-of-day reference prices, succeeding the previous provision by the U.K. Debt Management Office (DMO).
Tradeweb and FTSE Russell produce end-of-day Gilt reference prices in a manner consistent with IOSCO principles. Tradeweb calculates the reference prices based on data from the Tradeweb dealer-to-client U.K. Gilt trading platform; FTSE Russell operates as the administrator of the reference prices and uses these prices in the calculation of the FTSE Actuaries UK Gilts Index Series.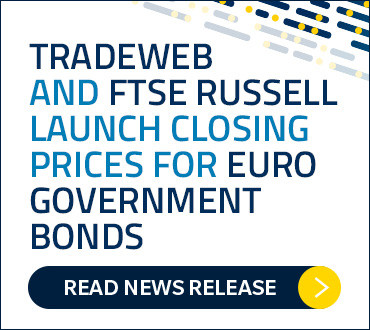 Prices are based on executable bid and offer prices supplied by Gilt-Edged Market Makers (GEMMs) to Tradeweb's electronic trading platform in a two-minute collection window centered around the notional market "closing" time of 4.15pm (times may vary around public holidays).
Reference prices are available without charge to the wider public for non-commercial use from 12 noon on the day following initial publication and can be accessed here.
If you would like further information or to request access to the Gilt Marks user guides and definition documents, contact Tradeweb on ECS@Tradeweb.com or 020 7776 3200.
Administration
Click here to download the Statement of Principles for the Administration of the Tradeweb FTSE Gilt Closing Prices.
Methodology
Click here to download a guide to the calculation of Tradeweb FTSE Gilt Closing Prices.
Challenges
Please click here to submit a challenge of the Tradeweb FTSE Gilt Closing Price.