Trading Activity in Italian and Spanish Government Bonds Surge on Tradeweb
| Tradeweb
Monthly Italian and Spanish bond trading volumes surpassed their previous records set in January
Italian government bonds saw record volumes in May on Tradeweb, with average daily volumes in excess of EUR 3.1bn – a 26% increase from the previous record set in January. The republic's bonds were the second most actively traded on the platform in May, behind Gilts; it is the first time this has occurred since September 2011. The bonds were the second most traded on the European Government platform 11 days last month and were the most traded 3 days. May average daily volumes are up by over 60% compared to both April 2018 and May 2017.
Spanish Government Bonds[1] also set a record EUR 1.8bn ADV in May, as rates volatility picked up over the month and volume activity between Spanish and Italian bonds was well correlated over the period.
After rising sharply in May, yields on both Italian and Spanish debt have moved sharply lower on continued robust volumes to start June, following market positive news stories from both regions.
Yield (and spread to German Benchmark) Changes in Basis

Monthly ADV of Italian and Spanish Government Bonds Since January 2017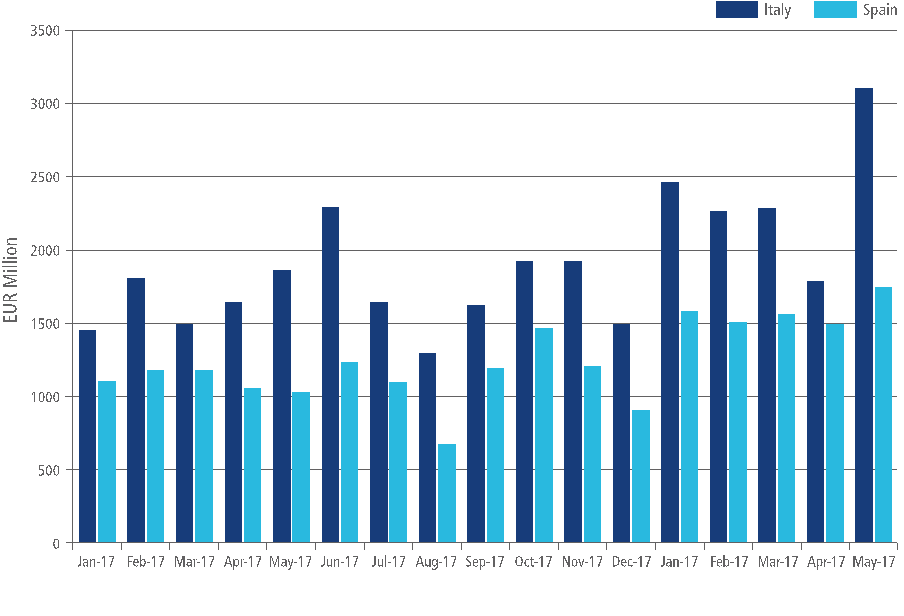 Click here for additional insight from Tradeweb posted earlier this week on Italian bond trading volumes on the platform, which surpassed their previous record set in 2011.
The Tradeweb European Government Bond marketplace is a leader in D2C OTC electronic trading of nominal bonds, inflation-linked bonds, treasury bills, strips and CCTs from more than 20 countries in Europe. Launched in 2000, the platform provides buy-side firms with access to liquidity from 36 of the world's largest dealers in EUR, GBP, DKK, SEK, NOK, CHF and HUF issues. Clients also benefit from enhanced pre-trade information and analysis to meet 'best execution' requirements thanks to 3,000+ live axes posted directly by European government bond liquidity providers. Furthermore, Tradeweb's automated trading tool enables buy-side traders to define parameters that determine how to execute different profiles of orders, thus enhancing trading efficiency and capacity to focus on larger size transactions.
To learn more about Tradeweb's European Government Bond platform, click here.