Tradeweb Government Bond Update – February 2019
| Rates
Bond market volatility was largely muted in February. In the Asia-Pacific region, the Japanese and Australian 10-year mid-yields fell by 2.5 and 8 basis points to end the month at -0.03% and 2.14%, respectively.
In the U.S., market participants waited for clarity following the government shutdown and the publication of January's FOMC minutes. Over the course of the month, the 10-year U.S. Treasury yield maintained the tightest range on record since 2006, ultimately rising by nearly 8 basis points to close at 2.71%.
Amid ongoing uncertainty around the outcome of Brexit negotiations, the Bank of England downgraded its UK growth forecast to 1.2% from 1.7% in November. Mid-yields on the 10-year Gilt ended February 8 basis points higher at 1.31%.

German 10-year Bund yields were similarly range-bound, rising 8 basis points to close the month at 0.18%. Germany narrowly escaped a recession after posting 0% growth in the fourth quarter of 2018, according to Destatis. Furthermore, a flash Purchasing Managers' Index for manufacturers was only 49.2 in February, the lowest level in about six years.
Elsewhere in Europe, Danish and Austrian 10-year debt experienced some of the largest yield moves of the month, with the former increasing by just over 20 basis points to close at a high of 0.28%. Denmark's estimated growth for 2018 was 1.1%, while unemployment was at a decade low. Austria's bond mid-yield also climbed steadily in February, ending the month 16 basis points higher at a high of 0.53%. The Austrian National Bank predicted gross domestic product would only be 0.3% in the first quarter and 0.4% in the second quarter of 2019.
Meanwhile, the Italian 10-year bond yield rose by 16.5 basis points to close at 2.75% on February 28. The European Commission cut Italy's growth forecast to 0.2% for 2019, down from 1.2% in November. Despite projections for an increase, industrial production fell 0.8% in December, data from Statistics agency Istat showed.
Conversely, Portuguese, Spanish, Irish, and Greek 10-year bond yields declined during the month, with the latter seeing February's largest drop of approximately 20 basis points. In late January, Greece issued its first round of bonds – EUR 2.5 billion worth of 5-years - since its third bailout program ended in August 2018, which Moody's called "credit positive." Still, at the end of February, Valdis Dombrovskis of the European Commission criticized the country's actions and plans for future economic reform.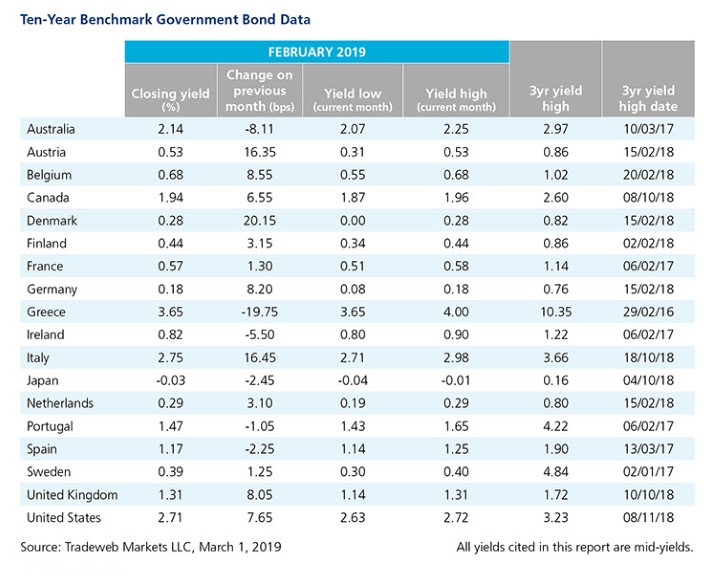 Download
Corresponding
Data Points