Tradeweb Government Bond Update – August 2023
| Rates
August was a mixed month for 10-year government bond yields, with those for Sweden climbing nearly 21 basis points to finish at 2.71%. Their U.S. Treasury equivalents saw the month's second highest move of over 13 basis points, ending August at 4.09%. Speaking at the Jackson Hole Symposium, Federal Reserve Chair Jerome Powell emphasized that the central bank was prepared to raise rates further if appropriate, and intended to hold policy at a restrictive level to bring inflation down to its 2% goal. The annual inflation rate increased to 3.2% in July 2023, up from 3% in the month prior.
Europe's biggest mover, Portugal's 10-year benchmark note yield, rose by nearly 11 basis points over the month to close at 3.30%. According to preliminary estimates, the annual inflation rate in the country was expected to reach 3.7% in August 2023, edging up from 3.1% in July, the first increase in 10 months.
Spanish inflation also rose to 2.6% in August, up from July's 2.3% rate. Socialist leader Pedro Sanchez rejected a request from Alberto Nunez Feijoo, leader of the centre-right Popular Party, to support his bid to become prime minister after failing to secure a governing majority in the July 23 elections. Sanchez said he would instead seek to form a minority coalition government and remain in power for another term. The mid-yield on Spain's 10-year government bond ended August nearly three basis points higher at 3.47%.
In comparison, its German 10-year Bund equivalent climbed just over half a basis point to finish at 2.46%. Preliminary readings showed that inflation in Germany was 6.1% in August, marginally down from July's 6.2% rate. The HCOB Germany Manufacturing PMI came in at 39.1, the second-lowest reading for the index since May 2020 and still firmly inside sub-50 contraction territory.
At its latest meeting, the Bank of England's Monetary Policy Committee (MPC) voted by a majority of 6–3 to hike interest rates by 0.25 percentage points to 5.25%. UK 10-year Gilt yields closed at 4.35% on August 31, six basis points higher than July's month end. The GfK Consumer Confidence Index increased five points from July to -25 in August, while the S&P Global/CIPS UK Manufacturing PMI was 43, slightly up from a preliminary estimate of 42.5.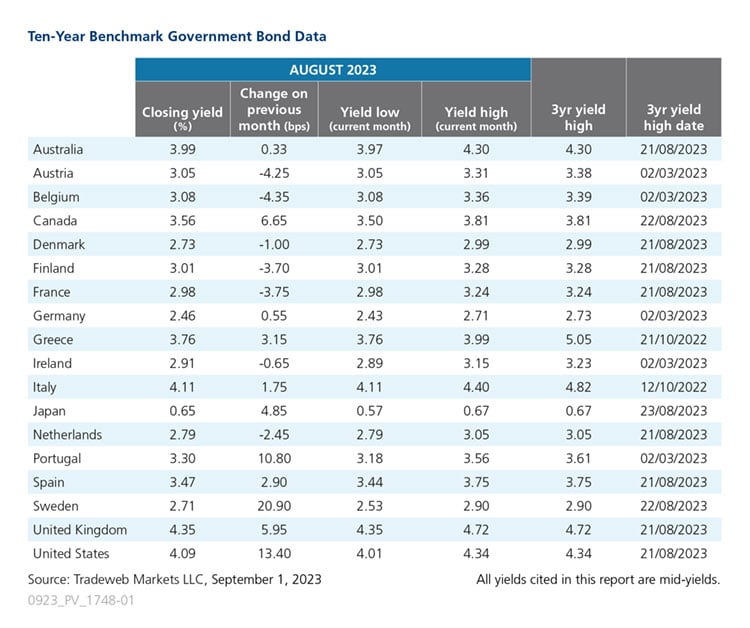 Related Content