Tradeweb Exchange-Traded Funds Update – July 2021
| Equities
The following data is derived from trading activity on the Tradeweb Markets institutional European- and U.S.-listed ETF platforms.
EUROPEAN-LISTED ETFs

Total traded volume
July's total traded volume on the Tradeweb European-listed ETF marketplace amounted to EUR 45.9 billion, while the proportion of transactions completed via Tradeweb's Automated Intelligent Execution (AiEX) tool was 73%.
Volume breakdown
Trading activity in stocks-based ETFs increased to 69% as a proportion of the overall platform flow, beating the previous 12-month rolling average by six percentage points. The asset class saw net selling in July, in contrast to its fixed income and commodities counterparts. North America Equities reclaimed the most heavily-traded ETF category title, with EUR 10.9 billion in traded volume.
Adriano Pace, head of equities (Europe) at Tradeweb, said: "July proved to be anything but quiet, with the majority of trading activity centered on equity ETFs. ESG-focused products continued to garner investor interest, and we saw two ETFs with a sustainable investing approach feature in our top ten list by traded notional volume".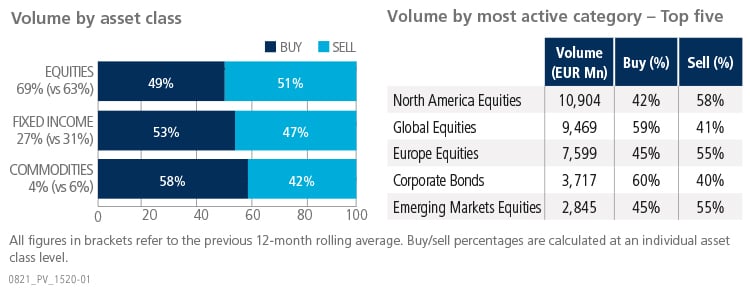 Top ten by traded notional volume
There were six products offering exposure to U.S. stocks among July's most aggressively-traded ETFs, including four funds investing in specific factors. In first place, the iShares Edge MSCI USA Value Factor UCITS ETF tracks the performance of an index composed of a sub-set of MSCI USA stocks that seeks to capture undervalued stocks relative to their fundamentals.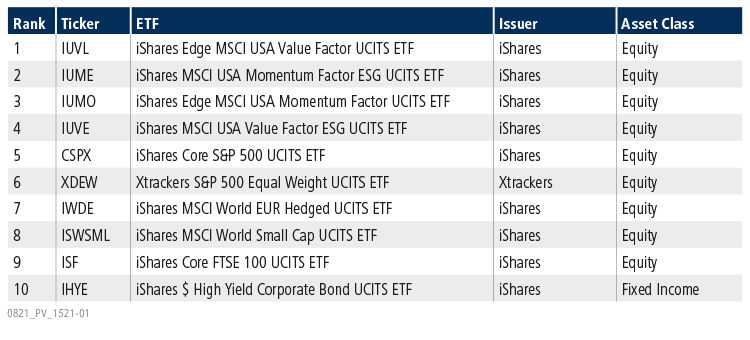 U.S.-LISTED ETFs

Total traded volume
Total consolidated U.S. ETF notional value traded in July 2021 was a record USD 36.9 billion, beating the platform's previous best performance in March 2020 by USD 9.8 billion.
Volume breakdown
As a percentage of total notional value, equities accounted for 48% and fixed income for 49%, with the remainder comprising commodity and specialty ETFs.

Adam Gould, head of U.S. equities at Tradeweb, said: "While we saw a fairly big sell off on some renewed pandemic concerns in July, equities rallied back very quickly and closed at or near record highs. The record traded volumes on our U.S. ETF platform were driven in part by a series of ETF model rebalances, which tend to generate larger trades. One trade was north of USD 1.6 billion, also a record for a single transaction over the platform."
Top ten by traded notional volume
During the month, a record 1234 unique tickers traded on the Tradeweb U.S. ETF platform. Fixed income products dominated July's top ten list by traded notional volume, with the Vanguard Short-Term Bond ETF ranked first.