Tradeweb Exchange-Traded Funds Update – January 2021
| Equities
The following data is derived from trading activity on the Tradeweb Markets institutional European- and U.S.-listed ETF platforms.


EUROPEAN-LISTED ETFs

Total traded volume
January proved to be the second strongest month on record for the Tradeweb European ETF marketplace, with total traded volume amounting to EUR 50.6 billion. The proportion of transactions processed via Tradeweb's Automated Intelligent Execution (AiEX) tool increased to 74.4%.

Adriano Pace, head of equities (Europe) at Tradeweb, said: "Our European ETF platform had a great start to the year, both in terms of notional volume and client participation. A broad range of institutions used our platform to recalibrate their portfolios, as markets reacted to ongoing Covid-19 restrictions, the political crisis in Italy, and the changing of the guard in the U.S."

Volume breakdown
All ETF asset classes saw net buying for the second consecutive month. Trading activity in shares-based products increased to 70% of the overall platform flow, beating the previous 12-month rolling average by 11 percentage points. North America Equities was the most actively-traded ETF category during the month, with over EUR 14 billion in notional volume.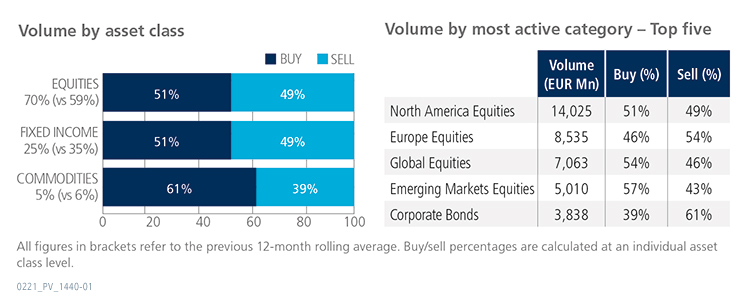 Top ten by traded notional volume
Half of January's top ten ETFs by traded notional volume offer investor exposure to U.S. stocks, including two Amundi ESG products. However, the UBS (Irl) Fund Solutions plc - MSCI ACWI SF UCITS ETF was ranked first, a fund tracking the performance of a global equities index.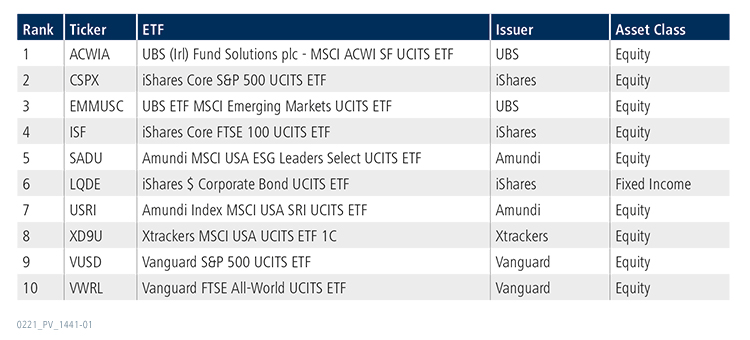 U.S.-LISTED ETFs

Total traded volume
Total consolidated U.S. ETF notional value traded in January 2021 reached USD 22.6 billion, the platform's second best monthly performance after March 2020.

Volume breakdown
As a percentage of total notional value, equities accounted for 60% and fixed income for 32%, with the remainder comprising commodity and specialty ETFs. The proportion of U.S. ETF trades executed on the platform via the Tradeweb AiEX tool was 44.5%.



Adam Gould, head of U.S. equities at Tradeweb, said: "January was a busy month for U.S. ETF trading on Tradeweb. There were multiple ETF model rebalances, and clients upped their use of our switch trade functionality; being able to quote these trades as a package allows liquidity providers to price more efficiently and aggressively. We also saw a fairly dramatic increase in the average AiEX trade size in ETFs, and expect adoption of the tool to continue as trading desks are tasked with finding more automated solutions."

Top ten by traded notional volume
During the month, 897 unique tickers traded on the Tradeweb U.S. ETF platform. The top ticker by traded notional volume was the J.P. Morgan BetaBuilders Developed Asia ex-Japan ETF, which seeks investment results that closely correspond to the Morningstar® Developed Asia Pacific ex-Japan Target Market Exposure IndexSM.