Tradeweb Exchange-Traded Funds Update – February 2021
| Equities
The following data is derived from trading activity on the Tradeweb Markets institutional European- and U.S.-listed ETF platforms.


EUROPEAN-LISTED ETFs

Total traded volume
Trading activity in European-listed ETFs reached EUR 46.3 billion in February, with over 74% of transactions completed via Tradeweb's Automated Intelligent Execution (AiEX) tool.

Adriano Pace, head of equities (Europe) at Tradeweb, said: "February was a strong month for European ETF trading, with a notable uptick in fixed income ETF activity. We continued to see clients leverage our list and switch tickets to execute asset allocation transactions. Trading multiple ETF tickets simultaneously reduces market exposure and helps streamline traders' workflow."

Volume breakdown
Fixed income and commodity ETFs saw net selling during the month, in contrast to their stocks-based counterparts. Activity in equity ETFs accounted for 59% of the overall platform flow, with buys outweighing sells by 12 percentage points. Once again, North America Equities was the most actively-traded ETF category, seeing more over EUR 9.2 billion in notional volume.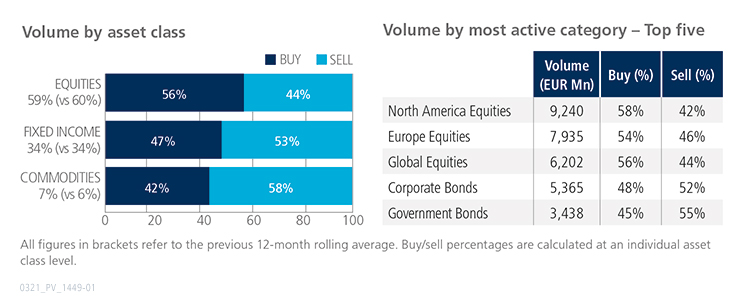 Top ten by traded notional volume
There were five fixed income ETFs in February's top ten by traded notional volume list, which also comprised two products tracking the movements of the gold spot price. The iShares Core Corporate Bond UCITS ETF was the month's most actively-traded fund, after last occupying the top spot in November 2020.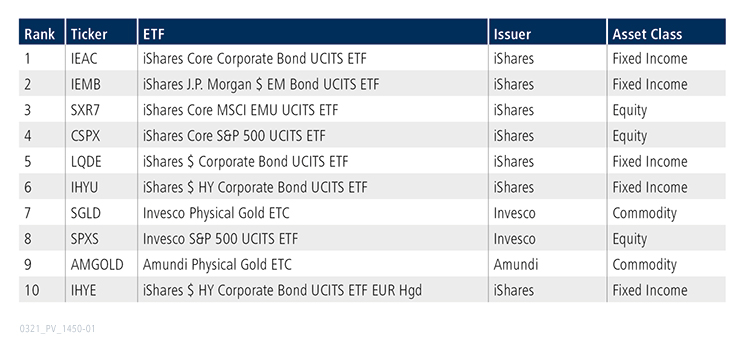 U.S.-LISTED ETFs

Total traded volume
Total consolidated U.S. ETF notional value traded in February 2021 amounted to USD 19.4 billion.

Volume breakdown
As a percentage of total notional value, equities accounted for 46% and fixed income for 41%, with the remainder comprising commodity and specialty ETFs. The proportion of U.S. ETF trades executed on the platform via the Tradeweb AiEX tool was 42%.




Adam Gould, head of U.S. equities at Tradeweb, said: "February was another active month for our institutional U.S. ETF platform, particularly during the last week of trading, with year-over-year notional volume up 71%. As both equity and rate markets volatility spiked, we saw a number of our clients reposition their portfolios. Activity in fixed income ETFs was high and we expect this trend to persist, if rates continue to experience outsized moves."

Top ten by traded notional volume
During the month, 813 unique tickers traded on the Tradeweb U.S. ETF platform. Seven of the ten most heavily-traded funds were fixed income, including two Treasury ETFs. However, an equity-based product was ranked first. The iShares MSCI Emerging Markets ETF returned to the top ten list after its last appearance in October 2020.