Tradeweb Exchange-Traded Funds Update - August 2020
| Equities
The following data is derived from trading activity on the Tradeweb Markets institutional European- and U.S.-listed ETF platforms.

EUROPEAN-LISTED ETFs

Total traded volume
Total traded volume on the Tradeweb European-listed ETF marketplace reached EUR 25 billion in August. More than 73% of transactions were processed via Tradeweb's Automated Intelligent Execution (AiEX) tool.

Volume breakdown
Equity and fixed income ETFs saw net buying for the fourth successive month in contrast to their commodity-based counterparts. Trading activity in commodities ETFs increased to 12% of the overall platform flow, beating the previous 12-month rolling average by six percentage points. North America Equities was once again the most heavily-traded ETF category with over EUR 5 billion in traded notional volume.

Adriano Pace, head of equities (Europe) at Tradeweb, said: "Precious Metals ETCs had a very busy August in terms of trading activity, but saw mostly 'sells' during the month. Equity-focused ETFs, however, were strongly bought, particularly those offering investors exposure to global stocks."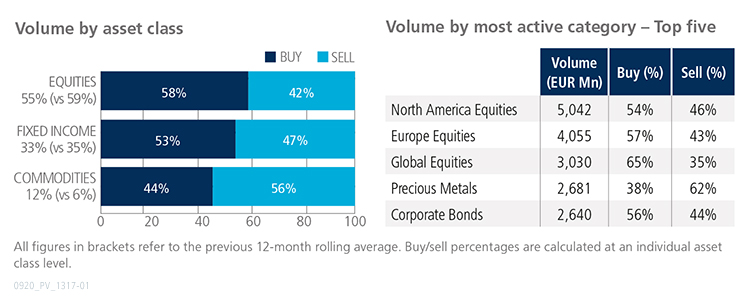 Top ten by traded notional volume
There were three commodity products among August's top ten by traded notional volume. In first place, the iShares Physical Gold ETC provides investment exposure to physical gold and is valued based on the London Bullion Market Association (LBMA) gold price.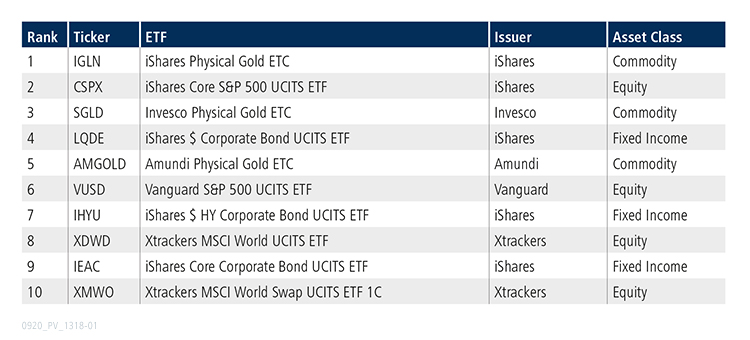 U.S.-LISTED ETFs

Total traded volume
Total consolidated U.S. ETF notional value traded in August 2020 amounted to USD 9.4 billion.

Volume breakdown
As a percentage of total notional value, equities accounted for 35% and fixed income for 57%, with the remainder comprising commodity and specialty ETFs. The proportion of U.S. ETF trades executed on the platform via the Tradeweb AiEX tool was 35%.


Adam Gould, head of U.S. equities at Tradeweb, said: "August was all about fixed income trading on our U.S. ETF platform, with the asset class accounting for 57% of the overall flow, the highest percentage so far this year. Overall, the platform performed well and saw a 38% increase in the number of completed transactions."

Top ten by traded notional volume
During the month, 680 unique tickers traded on the Tradeweb U.S. ETF platform. Fixed income products dominated the top ten list by traded notional volume, with the iShares iBoxx High Yield Corporate Bond ETF ranked first.