The Benefits of RFQ for Listed Options Trading
| Equities
TABB Group recently released a report titled, "Can RFQ Quench the Buy Side's Thirst for Options Liquidity?" This paper explores the use of an RFQ system to reach out directly to multiple liquidity providers when trying to execute a large order. The Head of Derivatives Research at TABB Group, Russell Rhoads, notes that RFQ systems offer benefits from both old school open outcry trading and electronic execution.
Rhoads notes that, in the few places where open outcry options trading is still prevalent, that a single price for a large order can be solicited through a broker in the pit. If the terms of the pit's collective response match up to a price where the trader is willing to trade then a transaction will take place. Although this liquidity pool is very transparent, there is a lack of anonymity that accompanies soliciting orders in this manner. Electronic executions can help traders keep an order closer to the vest, but there may be liquidity in the market that is not found through piecing out a larger order.
An RFQ platform will allow an execution trader the ability to solicit quotes from multiple liquidity providers while also maintaining some of the anonymity that is desired when working a large order to taking a large position. Tradeweb's options RFQ platform is highlighted in the paper in order to demonstrate how an options RFQ system functions.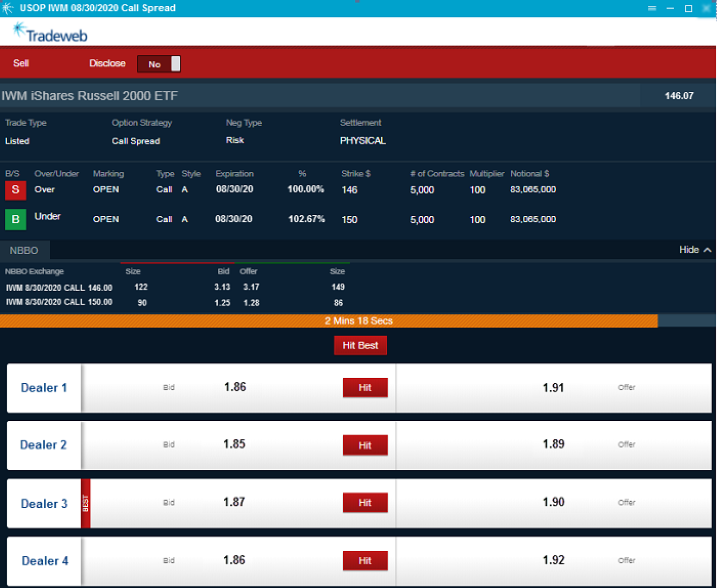 The example used in the paper solicits quotes for a vertical spread using options on the iShares Russell 2000 ETF (IWM). The example solicits four liquidity providers and the response is both a bid and offer price from each firm representing a firm price to take the other side of a buy or sell order in this vertical spread. The result of this example allows the trader to complete their order at a price that improves on the national best bid / best offer as well as at a size that is much greater than what is being shown on the quote screen.
Using an RFQ system to solicit quotes from liquidity providers is a tool that any firm seeking listed options liquidity should have in their tool box.
To learn more about Tradeweb's options RFQ platform click here.
To read TABB Group's report on RFQ systems in the listed options markets click here.
Disclosures:
Options trading entails significant risk and is not appropriate for all investors. Certain complex options strategies carry additional risk. Before trading options, please read Characteristics and Risks of Standardized Options. Supporting documentation for any claims, comparisons, recommendations, statistics, or other technical data will be supplied upon request. Options trading may carry additional fees such as but not limited to brokerage, exchange and settlement fees which may impact returns.
The Characteristics and Risk of Standardized Options and the November 2012 Supplement to Characteristics and Risks of Standardized Options can be found via the following links: