Ten Days Later: Some SOFR First Observations
| Rates
On July 26, 2021, led by the recommendations adopted by the Commodity Futures Trading Commission's Market Risk Advisory Committee (MRAC) and endorsed by the Alternative Reference Rate Committee (ARRC), dealer-to-dealer swaps markets officially moved to a SOFR-first posture in the U.S.
Though the market is navigating the early days of this transition, we can already see institutional client engagement building.
So far, SOFR trading on Tradeweb as a percentage of new risk has reached a new weekly record for 2021[1]: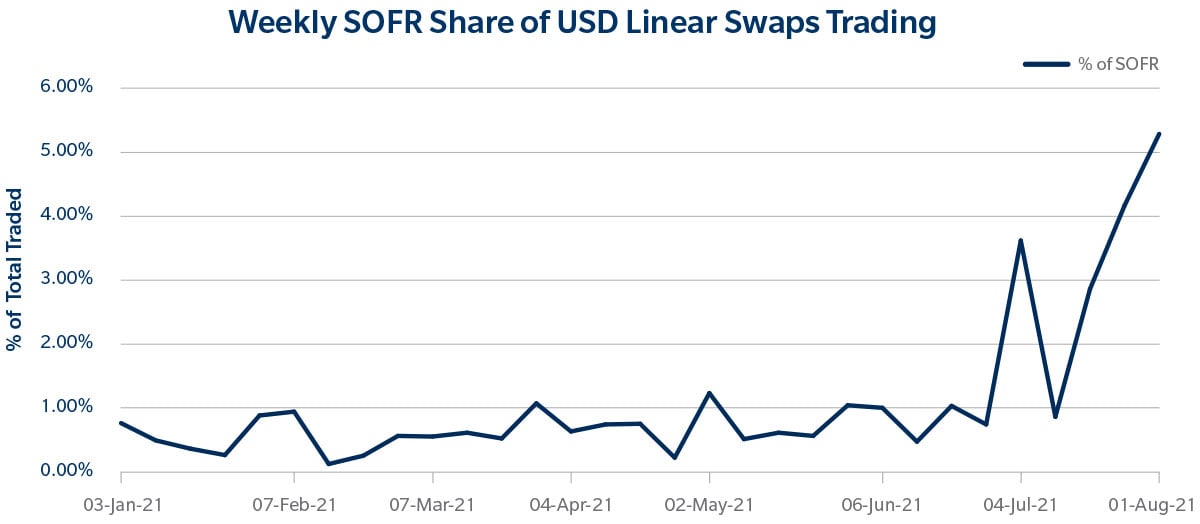 Source: TW SEF, % of Delta, excluding basis and inflation swaps


In addition, the spread between the average composite bid-offer in SOFR compared to LIBOR has tightened across tenors on Tradeweb: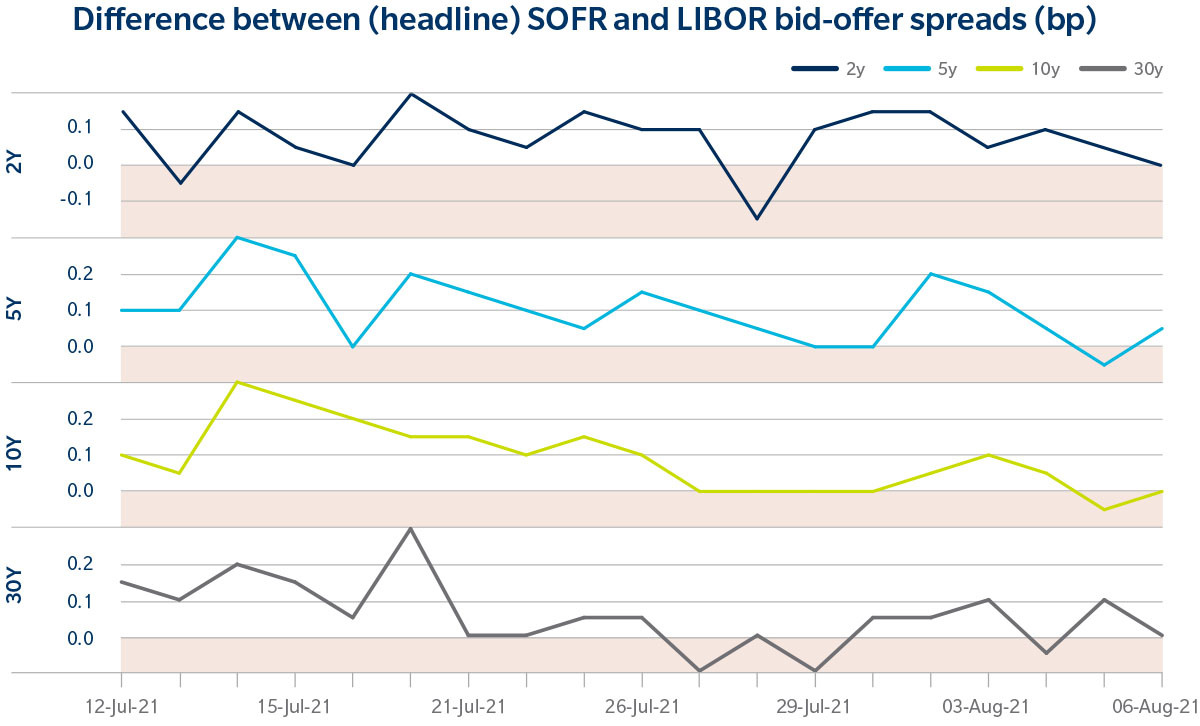 While institutional clients are not part of the first recommended phase, their interest and growing activity is encouraging – including in the broader context of other global markets that have moved towards new RFRs and away from IBOR instruments. The fact remains that by January 1, 2022, no new USD Libor risk is to be traded, and U.S. market participants should only be using Libor for risk reduction, if at all.
As an early indication of adoption, here's how USD SOFR adoption compares to TONA in the Japanese market: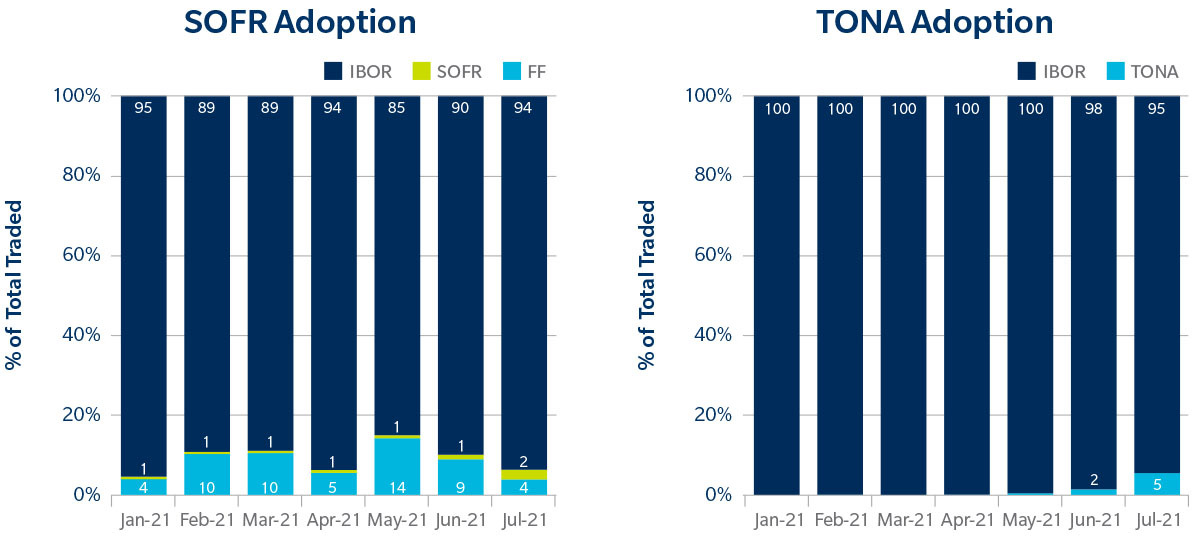 Source: Tradeweb, % of Delta


To give a sense of what might be yet to come, here's how SONIA adoption has progressed in the U.K.: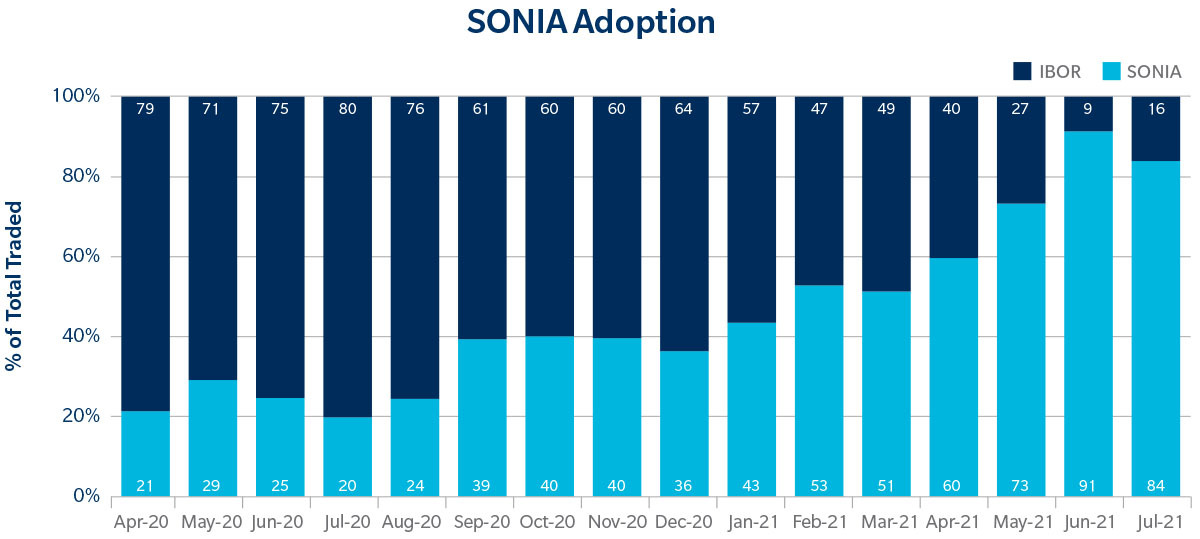 It follows that, in time, volumes will follow the mounting client interest. In the meantime, we are working hard to facilitate trading across existing and new rates around the world. Our list trading functionality is being used daily by clients globally to convert existing IBOR swaps into the new RFRs.
To bring it back to SOFR, we announced in July that Tradeweb had facilitated the first SOFR swap spread trade. Step by step, and however incremental the progress might seem, we're focused on growing liquidity to allow clients of every sort to exchange and manage their risk positions.


Related Content
Tradeweb Virtual Derivatives Event: The Progress Towards SOFR


Tradeweb Announces First Fully Electronic SOFR Swap Spread Trade
[1] Tradeweb saw record SOFR activity the week of October 18, 2020, immediately following the CCPs implementation of SOFR discounting methodology for cleared USD swap trade.