Portugal 10Y bond mid-yield closes below 5% for first time since August 9, 2010
| Tradeweb
The mid-yield of Portugal's ten-year benchmark bond closed below 5% yesterday, reaching 4.932%. This last occurred on August 9, 2010, when the closing value was 4.978%. Just two years ago, mid-yields for Portugal's ten-year debt peaked at 16.376% (January 30, 2012), a remarkable 1144.45 basis points higher than yesterday's close.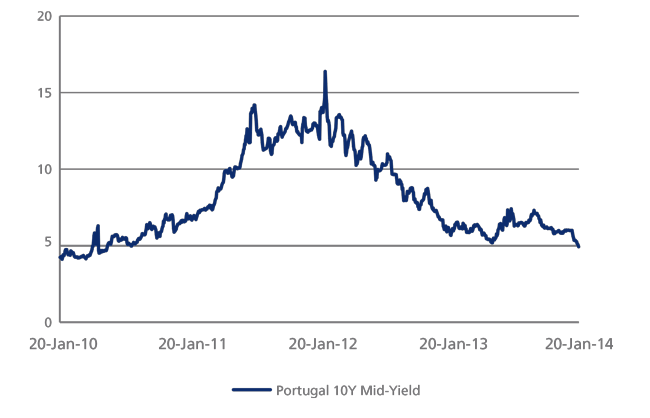 The drop came on the back of Portugal's successful sale of €3.25bn five-year bonds on January 9, and Standard & Poor's announcement last Friday that it had removed the country from CreditWatch. On the same day, Moody's upgraded Ireland's debt from junk status to investment grade. The positive news was followed by a 20 basis points drop in Irish ten-year mid-yields, which closed yesterday at their lowest level (3.239%) since October 12, 2005.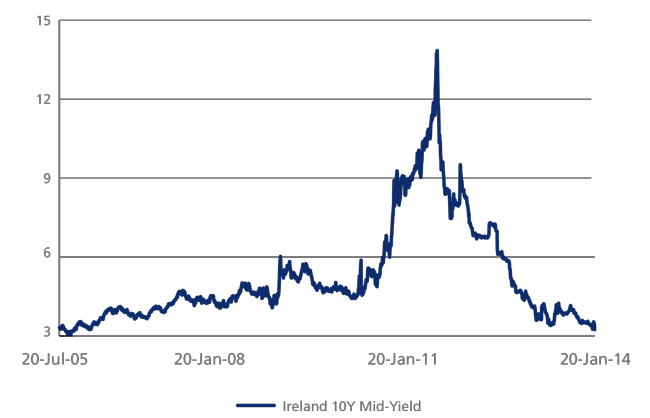 Ireland's successful bailout exit in December seems to be influencing investor sentiment towards Portugal ahead of May 17, when the country is expected to leave its own bailout programme.