Market snapshot: The ECB launches QE - Eurozone government bond mid-yields fall to record lows
| Tradeweb
European Central Bank (ECB) president Mario Draghi announced yesterday the launch of an expanded asset purchase programme, which encompasses the central bank's existing purchase schemes for asset-backed securities and covered bonds.
From March onwards, the ECB will buy €60 billion of public and private sector securities per month. The programme will continue until at least September 2016, with the target of achieving a "sustained adjustment in the path of inflation, which is consistent with our aim of achieving inflation rates below, but close to, 2% over the medium term", according to Mr Draghi.
This stimulus action follows a set of measures adopted by the ECB last year to boost the eurozone economy, including deep cuts to key interest rates and cheap loans to banks. In July 2012, Mr Draghi had described the Euro as "irreversible" and pledged that the central bank was "ready to do whatever it takes to preserve the euro."
As at market close yesterday, ten-year government bond mid-yields touched fresh lows across many eurozone countries: France (0.617%), Italy (1.572%), Ireland (1.142%), Spain (1.416%) and Portugal (2.339%).
Germany's ten-year bond indicative mid-yield dropped 9 basis points during the day to close at 0.395%.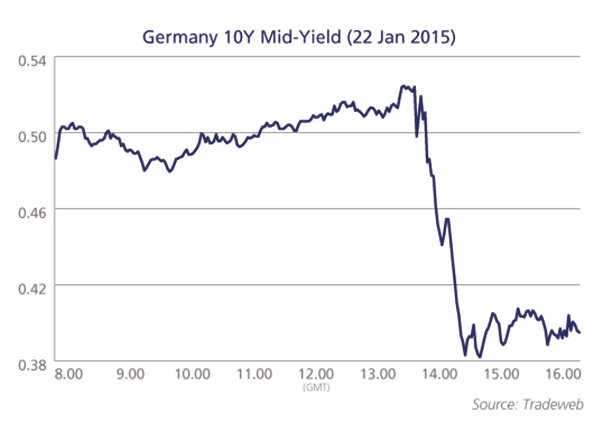 Meanwhile, the Greek 10-year bond indicative mid-yield closed at 8.866%, after falling by 33 basis points on the day.