Market snapshot: Germany's 10-year Bund yield drops to new record low
| Tradeweb
Germany's 10-year government bond bid-yield closed at a new record low of 0.19% yesterday. Its downward course continued today, as it dropped to an intraday low to 0.17% at 13:16 GMT.
Bid-yields on government debt for other eurozone countries also declined in the last couple of days, however, without breaking the record low levels reached on March 11, 2015. In France, the 10-year government bond bid-yield hit 0.43% at 13:16 GMT today, one basis point above its closing value of 0.42% on March 11.
Similarly, the Italian and Spanish 10-year bond bid-yields touched 1.20% and 1.18% respectively at 13:02 GMT today, seven and nine basis points respectively above their all-time low closing values on March 11.
Meanwhile, the bid-yield on Greece's 10-year government bond closed at 12.29% yesterday, its highest since a closing value of 12.47% on March 28, 2013. A meeting was held late last night between key EU figures – including German Chancellor Angela Merkel, French President François Hollande, European Central Bank President Mario Draghi and EU Commission President Jean-Claude Juncker – and Greek Prime Minister Alexis Tsipras. The latter promised to submit the details of his economic reform plan in days. Bid-yields on the Greek 10-year bond fell back to 11.58% at 13:34 GMT today.
Germany 10-year indicative bid-yields since March 20, 2014: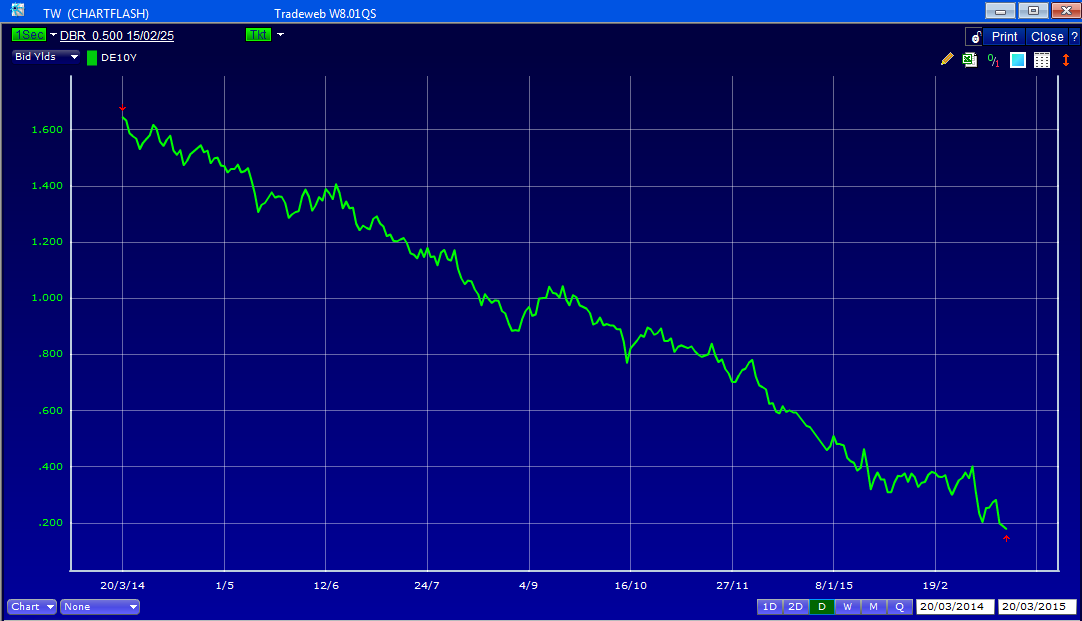 Greece 10-year indicative bid-yields since March 28, 2013: